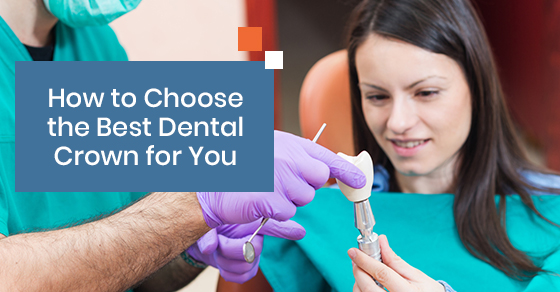 How to Choose the Best Dental Crown for You
Cavities, injury, and gum disease can lead to irreversible damage to your teeth. You may require an extensive filling, root canal, or dental implant. In all of these instances, you will also need a dental crown! This restores a solid bite, the aesthetic of your smile, and allows you to chew without pain.
There are several dental crown options to choose from. Some offer a more natural look, while others provide the necessary durability.
What is a dental crown?
A dental crown is a synthetic cap attached to the top of a damaged tooth or a tooth implant. If you have had a severe cavity, tooth removal, cracked tooth, or undergone a root canal, your dentist may recommend a dental crown. Additionally, crowns can replace large fillings and help align your bite.
If your tooth has been removed, your dentist will replace it with a dental implant screwed directly into the jaw. In this case, the dental crown adheres to the base of the dental implant. However, dental crowns can also be applied to your natural tooth if enough of the tooth remains.
The Types of Dental Crowns
Metal (Gold)
Although metal crowns look gold, they're actually made from a combination of copper and other metals. These crowns are very strong and durable, but also malleable enough to not damage your other teeth. Furthermore, metal crowns wear down very slowly and last for a long time with proper care.
In spite of these advantages, metal crowns are not for everyone. Many people are, understandably, hesitant to sport a gold tooth! Consequently, metal crowns tend to be used for back teeth (such as secondary molars) where the gold is less noticeable. That way, you benefit from the robust nature of the metal crown without compromising the aesthetic of your smile.
Porcelain
Unlike metal, porcelain crowns have a natural appearance, which makes them one of the most popular options. They closely resemble the colour of your teeth, and are manufactured to match the shape and size as well. As a result, porcelain crowns can be used for front teeth restorations.
Unfortunately, porcelain crowns lack the durability of some of the other options. They're more likely to chip, which makes them a less than ideal choice for molars.
Porcelain-Fused-to-Metal (PFM)
PFM (porcelain-fused-to-metal) crowns combine aesthetics and strength. The exterior is porcelain for a natural look, while the interior of the crown is a metal amalgam for durability. These crowns are strong, flexible, aesthetically pleasing, and won't chip as easily as pure porcelain.
If you have gum recession, though, PFM might not be the best option for you. This is because the metal foundation of the crown can show if your gums recede. You may notice a grey line appearing at the gum line.
Composite
Composite crowns are made from resin and are naturally off-white. Although less likely to chip than porcelain, composite crowns lack durability against regular chewing. They also wear down easily from regular brushing, which affects the aesthetic of the crown and can lead to discolouration.
Zirconia
Zirconia is a newer crown material that is both durable and aesthetic. They are long-lasting, strong, and unlikely to chip or break. However, zirconia crowns can actually be too strong and end up wearing down your other teeth.
E-Max (Lithium Distillate)
E-Max is a ceramic crown that offers a natural look alongside durability. Because of their natural appearance and strength, they can be applied to front or back teeth. They're also more expensive than other dental crowns.
Determining the Best Crown for You
Appearance
A natural, bright, and attractive smile is a priority for most people. Consequently, the appearance of the dental crown is incredibly important. This is especially true if the crown is needed on one of the front teeth. As a result, a gold tooth is unlikely to be your first choice.
Composite crowns often discolour due to brushing, which means they're also ill-suited to front teeth. Porcelain is the most popular option because of its natural look.
Durability
Intensive chewing can break weaker dental crowns. Thus, porcelain is a poor option for molars, and metal is the best choice for the innermost top and bottom molars. Metal is incredibly durable and can withstand the impact of chewing. PFM can also be used for molars in some cases. If you clench or grind your teeth, then you should opt for a stronger dental crown.
Cost
The cost of dental crowns varies depending on the material and complexity of the procedure. Typically, you can expect porcelain, zirconia, and E-Max to be the most expensive options. PFM tends to be the most affordable, and metal crowns are somewhere in the middle.
Restore Your Smile and Bite With a Dental Crown!
If your tooth has sustained serious damage from injury or cavities (or if you've lost a tooth), then a dental crown is a highly-effective restorative treatment. With the help of a dental crown, you'll be able to eat normally and smile with confidence.
When it comes to choosing the right dental crown for you, trust the expertise of your dentist. Depending on the placement of the crown, you may need a stronger material, such as metal or PFM. However, if it's one of your front teeth that requires the crown, you're likely to prefer porcelain for its natural look.
Whether you need a dental crown to repair a cavity or to cover a dental implant, your dentist at Bloor West Smiles can help you make the right choice for your mouth. Getting a dental crown is a one-day dental procedure so you can get back to living your life.
To learn more about one-day dental procedures in Toronto, call Bloor West Smiles at 647-371-1407 or contact us here.