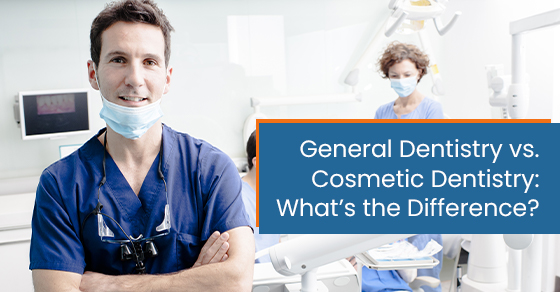 Should you visit a general or cosmetic dentist if you have a cracked tooth? And who should you see if you want to learn more about professional teeth whitening? You're not alone if you're unsure how to answer these questions. Understanding the many fields of dentistry and how they overlap can be confusing. General dentistry and cosmetic dentistry have a lot in common, so what is the difference? When should you see a cosmetic dentist instead of a general dentist?
This article will explain the differences between general and cosmetic dentistry. Additionally, we'll cover when you should see a general dentist instead of your cosmetic dentist and vice versa.
What is general dentistry?
General dentistry focuses on preventing, diagnosing, and treating oral health issues for patients of every age. These dental professionals have not specialized in a single area of dentistry or a particular procedure. Instead, they offer various services ranging from disease diagnosis to deep cleanings. A general dentist likely handles routine checkups, examinations, and professional cleanings.
Additionally, general dentists provide many restorative procedures and disease treatments. They also offer some cosmetic treatments.
When should you see a general dentist?
You should see a general dentist for regular checkups, preventative services, restorative services, and oral health concerns. A general dentist plays an essential role in preventing tooth decay and disease. It would be best to visit your general dentist every six months for a professional cleaning, diagnostic x-rays, and oral health assessment.
Furthermore, your dentist should work with you to create a customized treatment plan to maintain your oral health, especially after surgery or infection. If you have a toothache, cracked tooth, broken tooth, or bleeding gums, contact your general dentist at Bloor West Smiles. You may need a filling, dental crown, or treatment for gingivitis.
General Dentistry Services
Here are some of the services offered by general dentists:
Oral cancer screenings

Cavity treatment

Dental implants

Dental bridges

Gingivitis treatment

Fluoride treatment

Orthodontics

Custom mouthguards

Root canals

Tooth extractions
What is cosmetic dentistry?
Cosmetic dentistry is a specialized field that focuses on your smile's aesthetics. Cosmetic dentistry aims to improve the appearance of your teeth and gums so that you can smile and laugh confidently.
Although cosmetic dentists have undergone the same basic training as general dentists, they have additional education specializing in transforming the look of your smile. This branch of dentistry allows cosmetic dentists to perform basic teeth cleanings and exams. Teeth need to be cleaned before most cosmetic procedures.
Although cosmetic dentistry focuses on enhancing your smile, many cosmetic procedures have other oral health benefits. For example, some cosmetic treatments can repair minor damage and strengthen weakened teeth.
When should you see a cosmetic dentist?
You should see a cosmetic dentist if you're unsatisfied with the appearance of your smile. Our smiles play a considerable role in our confidence. Consulting a cosmetic dentist can help you achieve that picture-perfect smile you have always wanted.
Thanks to cosmetic dentistry, you can completely transform the look of your mouth. Cosmetic dentists can correct misaligned teeth, brighten faded or stained teeth, and repair chips or gaps.
Cosmetic Dentistry Services
Here are some of the services offered by cosmetic dentists:
Teeth whitening

Dental veneers

Cosmetic bonding

Tooth recontouring

Clear aligners

Dental bridges

Implants
Is cosmetic dentistry more expensive than general dentistry?
Cosmetic dentistry can be more expensive than general dentistry. The added cost factor is that cosmetic dentists are concerned with the appearance of your smile, meaning that they are more likely to choose more expensive materials.
Let's look at cavities as an example. Both general and cosmetic dentists have the expertise to remove tooth decay and fill a cavity. Cosmetic dentists tend to favour composite fillings designed to match the colour of your existing teeth for a more natural look. Composite fillings, however, tend to be more expensive.
On the other hand, a general dentist may recommend filling the cavity with a more affordable material like amalgam.
What do general dentistry and cosmetic dentistry have in common?
Just because you need a cosmetic procedure doesn't necessarily mean you need a cosmetic dentist. General dentists also offer a range of cosmetic procedures. Moreover, many cosmetic procedures double as restorative treatments. For example, veneers, dentures, dental bridges, and dental implants restore the mouth's function while improving your appearance.
Dental bridges are often used in instances when a tooth has been lost. It bridges the gap between two neighbouring teeth to create a perfect smile. However, it also provides structural benefits and prevents your remaining teeth from shifting. Tooth bonding corrects uneven teeth and gaps and repairs minor damage, such as chips and fractures to the teeth.
Lastly, dental veneers mask imperfections like unevenly shaped teeth, discoloured teeth, and gaps. They also strengthen weakened teeth, preventing the need for further treatment.
Should you see a general dentist or a cosmetic dentist?
You should visit a general dentist for your overall oral health and a cosmetic dentist to improve the appearance of your smile. For the best cosmetic results, consider seeing a dentist specializing in cosmetic dentistry.
However, remember that your general dentist can perform most cosmetic procedures at Bloor West Smiles. This dual service is convenient for most clients.
Dr. Kostirko of Bloor West Smiles is the premier cosmetic dentist in Toronto. He is also an experienced general dentist offering various diagnostic, preventative, and treatment services. Whether you are experiencing an uncomfortable toothache or are interested in rejuvenating your smile with a cosmetic procedure, Bloor West Smiles can help.
Visit Bloor West Smiles for Cosmetic Dentistry in Toronto
Give your confidence a boost and get the smile of your dreams with cosmetic dentistry. With more than 30 years of cosmetic dentistry experience, you're in safe hands with Bloor West Smiles. Dr. Kostirko provides a variety of cosmetic procedures such as veneers, whitening, and dental bonding.
Contact us today to learn more about transforming your smile with our professional cosmetic procedures. To learn more about cosmetic dentistry in Bloor West, call Bloor West Smiles at 647-371-1407 or contact us here.