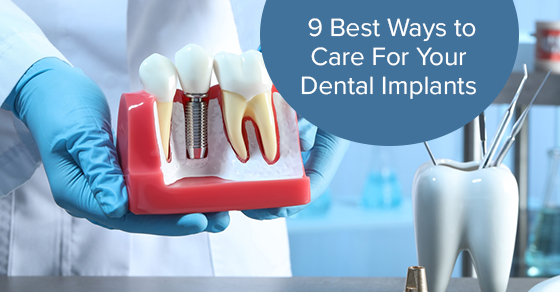 9 Best Ways to Care For Your Dental Implants
Dental implants allow you to regain normal function of your mouth and restore your smile after tooth loss. 
Modern implants look and feel like natural teeth, thus allowing you to smile and chew with confidence. They're truly an excellent solution for anyone who has lost a tooth due to decay, injury, or gum disease.
However, dental implants need to be properly cared for. Learning how to clean your implants to ensure their longevity and maintain their appearance is important. 
Failing to maintain your dental implants can lead to a range of issues. Inflammation, discomfort, pain, bone loss, and diseases like peri-implantitis are all possible outcomes if you neglect your oral hygiene.
Follow these nine essential steps for a healthy, happy smile and long-lasting dental implants.
Preventing Peri-Implantitis
Once you have dental implants, you need a rigorous oral health regime that keeps your implants clean. Otherwise, you may develop peri-implantitis.
Peri-implantitis is essentially gum disease of your implants. Like periodontal disease, your gums become inflamed and red. They will likely be sensitive to the touch and may bleed when you brush or floss. 
Additionally, eating may be painful. However, beyond just being incredibly painful, peri-implantitis can actually cause your dental implants to fall out. Fortunately, you can prevent peri-implantitis by following these vital tips for dental implant care. 
1. Use a soft-bristled toothbrush
Hard-bristled toothbrushes should always be avoided. They can damage the enamel on your teeth and are particularly bad for dental implants. Toothbrushes with hard bristles easily scratch the surface of implants, thus causing irreversible damage.
Consequently, it's important to use soft-bristled toothbrushes exclusively after getting dental implants. 
Look for a soft nylon brush instead! These have pliable and gentle bristles that won't damage your implants.
2. Avoid abrasive toothpaste
Any form of abrasion can damage your implants. Therefore, choose a specialty low-abrasive toothpaste. 
Ordinary toothpaste tends to be highly abrasive in order to remove plaque and stains, but too much roughness wears down the enamel and dental implants.
3. Floss daily
Flossing is crucial for removing food particles and plaque that accumulates between the teeth and cannot be removed by brushing alone. 
If you have dental implants, flossing is more important than ever. It's easy for plaque to build up around implants, which is bad news for your oral health.
It's essential to switch to an implant-friendly floss. You should floss daily with unwaxed tape or another implant-specific floss.
4. Practice good oral hygiene
You should continue to brush twice daily after getting dental implants. Remember to use non-abrasive products to protect your implants for many years to come.
A soft-bristled toothbrush, sensitive toothpaste, non-alcoholic mouthwash, and implant-specific floss are all definite must-haves. Baking soda, bleach, and chlorine cleansers should be avoided as they can weaken or permanently damage your implants. 
We also recommend saying no to any intensely flavoured oral hygiene products (think mint or cinnamon) because these can cause discomfort.
5. Avoid hard, hot, or sticky foods
Hard food can damage or break your implants and should be avoided. Similarly, sticky foods can adhere around your implants and promote plaque buildup.
If you have implants, try to avoid the following: ice, hard candies, hardshell tacos, potato chips, carrots, apples, crusty bread, caramel, dried fruits, and steak.
Additionally, hot water (or hot food products, such as soups) can distort your implants' shape.
6. Limit alcohol consumption
Alcohol is high in sugar, which promotes tooth decay in normal teeth. However, alcohol is also problematic for dental implants. 
Not only does it speed up the accumulation of plaque, but it also slows down the healing process post-dental implant surgery. 
As a result, it's especially important to avoid alcohol consumption during the six months following your dental implant procedure.
7. Quit smoking
Smoking is incredibly harmful to your oral health. If you choose to smoke, you place yourself at high risk for developing a range of health issues ranging from tooth decay to cancer.
When it comes to dental implants, smoking dramatically slows down the healing process. It also inflames and weakens the gums around the implant. Furthermore, smoking will stain your new implants.
8. Visit your dentist regularly
Regular trips to your dentist are essential to the health of your mouth. Visiting your dentist at least twice a year helps control plaque and tartar buildup and allows you to catch developing issues early.
Once you have dental implants, these appointments are also an opportunity to confirm that everything is functioning properly. 
Your dentist will check the implants to ensure no signs of peri-implantitis or damage.
9. Get a mouthguard for teeth grinding
Bruxism (also known as teeth grinding) can permanently damage your regular teeth and your dental implants. 
The excessive force puts intense pressure on your implants, which can have a lasting impact. If your dentist diagnoses you with bruxism, you should opt for a custom mouthguard to protect your teeth.
Special Care for Overdentures
At least once a day, gently brush the underside of the denture with a soft-bristled brush. 
Soak the denture in a specific cleaner overnight.
Inspect o-rings, locator caps, and clips daily for signs of wear.
Visit your dentist 2-4 times a year.
Need dental implants in Toronto? Contact Bloor West Smiles
Dr. Kostirko of Bloor West Smiles has more than 20 years of experience offering one-day dental implants in Toronto. This 20 to 30-minute procedure improves the look and function of your smile with minimal discomfort. 
Once you have your dental implants, you must care for them properly. You must practice good oral hygiene habits, including brushing twice a day with a soft-bristled toothbrush and non-abrasive toothpaste. 
You should also floss daily and use non-alcoholic mouthwash. Furthermore, avoid alcohol, smoking, and hard or hot foods.
If you have experienced tooth loss from decay, disease, or injury, see Dr. Kostirko of Bloor West Smiles for dental implant placement.
To learn more about one-day dental procedures in Toronto, call Bloor West Smiles at 647-371-1407 or contact us here.