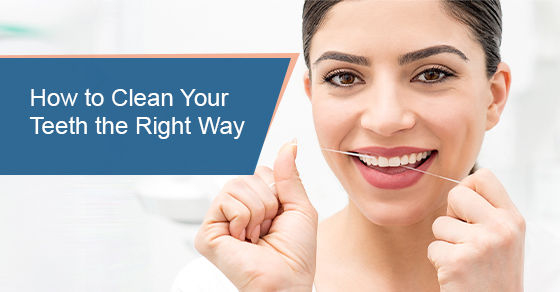 How to Clean Your Teeth the Right Way
You've probably been brushing your teeth the same way since you were a young child. However, what if you didn't learn about the proper techniques to make sure that the time you spend brushing is effective? Just because you move the bristles along the surfaces of your teeth doesn't mean you are doing it right, and it seems like the proper brushing technique isn't usually something someone teaches you.
Our oral hygiene is one of the most important factors in the overall health of not only your teeth, but also your entire body. Having clean, healthy teeth helps to ward off tooth decay and gum disease. It also plays a big role in preventing other diseases in your body. Cleaner teeth look better, are healthier, and function better, so this is why it's important for you to understand the best ways you can take care of them.
Everyone needs help to brush better. To make sure you are getting the most out of the time you are spending brushing, here are a few ways to achieve the perfect brushing technique.
Brush After Every Meal If Possible
The first thing we do when we roll out of bed is stumble to the bathroom to brush our teeth. The next thing we usually do is eat our breakfast right after. This sort of defeats the purpose of brushing, since your teeth will stay dirty until you eat your lunch. If you switch your morning brushing routine to take place after you eat your breakfast, your teeth will stay clean for 4 hours until you eat your lunch.
When it comes to keeping your oral hygiene up to par, the goal is to keep your teeth as clean as possible for as long as you can!
Brush Your Teeth for at Least 2 Minutes Every Session
Two minutes is the ideal length you should aim for each time you brush your teeth. Two minutes can seem like a long time to brush, especially if you are a busy person, but this amount of time allows you to make sure that you are reaching every part of your mouth. This is just as important as the time you take for brushing itself.
If keeping track of time is hard for you, try setting an alarm or putting on your favourite song to brush along to.
Use Dental Floss
Flossing is often a neglected part of the process of oral hygiene care. However, dental floss is an incredibly important item for cleaning in between your teeth where most of your food debris builds up. This debris eventually forms into plaque, which damages your enamel and leads to tooth decay. Dental floss is one of the best ways you can remove this debris.
Learn the Proper Tooth Brushing Technique
You should keep your toothbrush at a 45 degree angle to your teeth, as this is the best position for you to remove bacteria, plaque, and any leftover food from your mouth. In addition to brushing at the right angle, you should also learn the correct way to move your brush. We do not recommend brushing your teeth in a back and forth motion. The best motion to follow is one that moves in a circle since it will help you remove debris both horizontally and vertically.
Use a Toothbrush With Soft Bristles
Is your toothbrush quite hard to the touch? If so, then you could be doing irreversible damage to the surfaces of your teeth. Even though your teeth might feel hard as rock, they are pretty fragile, and they can be scratched and damaged by stiff bristles. This is known as traumatic tooth brushing. So, it's important for you to choose a toothbrush that has soft bristles. The softer you can find, the better. Soft bristles are better at sweeping away the plaque, which builds up on your teeth without degrading your tooth material.
Understand Where Your Problem Areas Are
Some common areas that need more attention when brushing can include your last molars, dental implants, bridges, or lingual wires. These areas trap plaque easily and require more time with brushing. Your dentist will be able to point these areas out to you during your check-ups, and they will also be able to give you advice on how to clean around those areas.
Consider Buying an Electric Toothbrush
Electric toothbrushes have many great features that can benefit a lot of different types of people. Using one can help those with poor hand-to-eye coordination, like young children, elderly people, and those with disabilities. Some individuals might choose an electric brush because it's more convenient and can give you a better clean than using a manual brush. You should look for one that has soft bristles and an automatic stop if you press too hard.
Eat a More Balanced Diet
Instead of going for a bag of sugary candy that will get stuck between your teeth, why not opt for something that has less sugar in it? Carrots and celery sticks are great for the health of your teeth because they are fibrous, and chewing on them simulates tooth brushing. Reducing your sugar intake can do wonders not only for your teeth, but for your overall health as well.
Don't Forget to Visit Your Dentist
Even if you're the best tooth-brusher in the world, you still need to visit your dentist! It's important to take regular trips to your dentist to make sure that your oral health is in tip-top shape and there are no new developments. Sometimes, even though we might think we are taking great care of our teeth, we are missing certain spots without noticing. If this is the case, then only an experienced dentist will be able to help you identify and resolve those issues.
For more information about teeth cleaning procedures in Toronto, call Bloor West Smiles at 647-371-1407 or contact us here.