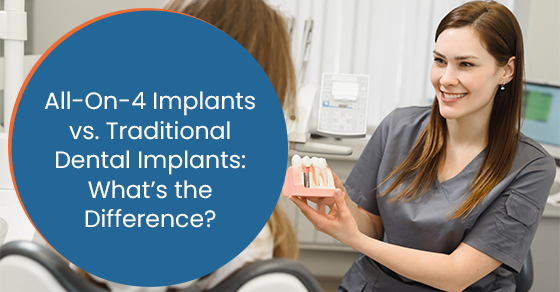 Many people experience tooth loss during their lifetime. Even though it is very common, it also comes with its own risks. Having missing teeth can cause severe health issues and affect your overall quality of life. It can make doing day-to-day activities a challenge, including eating, speaking, and so forth. Fortunately, however, there are several treatment options available to restore the look and function of your smile.
Traditional dental implants and All-on-4 implants are two treatments offered at Bloor West Smiles. However, what is the difference between the two approaches, and which one is right for you?
What are traditional dental implants?
Traditional dental implants are artificial tooth replacements. They are small and screw-shaped, allowing them to be inserted directly into your jaw.
Dental implants replace the entire tooth, including the roots. Consequently, a dental implant serves as a permanent restoration option for a missing or severely decayed tooth. It restores jaw function so that patients can eat, chew, and live normally.
Furthermore, dental implants have a natural appearance to blend in perfectly with the rest of your smile. Each implant is made from porcelain and custom-created to match your other teeth.
The Dental Implant Procedure
Typically, dental implants require a few appointments. Multiple implants cannot be all inserted at the same time. Additionally, you need several months to heal after the dental implant is inserted within your jawbone before your new artificial tooth can be placed.
The average healing time for dental implants varies; however, it usually takes 2-6 months. During this time, a process called osseointegration occurs. Your jawbone fuses around the implant, creating a secure and permanent connection.
What are All-on-4 implants?
All-on-4 implants are a full set of upper or lower replacement teeth. It is permanently anchored by only four dental implants that are inserted into the jawbone, hence the name. Since All-on-4 replaces an entire dental plate, it's best for patients that are missing multiple teeth or having severe decay across multiple teeth.
Additionally, All-on-4 implants are a great alternative to conventional dentures, particularly if you're someone who struggles with dentures. While conventional dentures can be loose and uncomfortable (and require regular cleaning), All-on-4 is a permanent, non-removable solution. Ultimately, the implants are designed to look and feel like natural teeth.
The All-on-4 Procedure
You can get your All-on-4 implants over the course of a single appointment. The artificial roots and your replacement teeth are all installed on the same day since there's no need to wait for osseointegration to take place.
Unlike traditional implants, All-on-4 implants are angled underneath the gum line to create a more secure and supported fit.
What is the difference between traditional dental implants and All-on-4 implants?
Although traditional dental implants and All-on-4 implants are both used to replace missing or damaged teeth, there are several crucial differences.
For example, the process of getting All-on-4 implants is faster than if you were to get dental implants. After all, dental implants require at least two appointments, while an All-on-4 implant can be completed in a single sitting.
Additionally, the All-on-4 implant procedure is simpler than traditional implants if you need multiple tooth replacements. A traditional implant replaces a single tooth, whereas All-on-4 replaces the entire upper or lower dental plate. Consequently, having multiple teeth replaced with traditional implants is a longer and more complicated process.
What are the benefits of All-on-4 implants?
1. You only need one surgery
The artificial roots and new replacement teeth are inserted on the same day, meaning there's no need for multiple surgeries. You don't have to wait for the jawbone to fuse around the implant during the osseointegration process. This means that over the course of a single appointment, your jaw function and the appearance of your teeth will be dramatically improved.
2. Bone grafting is rarely required
Bone grafting is when small fragments of bone are transferred to a new area of your jaw so that traditional dental implants can be properly inserted. This process often adds to the total treatment time.
Fortunately, bone grafting is rarely required with All-on-4 implants. At Bloor West Smiles, we choose the bulkiest area of your jaw to place the All-on-4 implants, so there's no need for a bone graft.
3. Often more affordable than traditional implants
It costs more to replace each damaged tooth individually than it does to get an All-on-4 implant. Getting multiple traditional dental implants means several trips to the dentist, costing you time and money. Therefore, All-on-4 is more affordable if many of your teeth are missing or damaged.
4. Improved oral health
Tooth decay, jawbone decay, and missing teeth are not good for your oral health. It's important to address these serious issues quickly. Your dentist removes your problematic teeth, remnants of lost teeth, and damaged gum tissue before inserting the All-on-4 implants. This eliminates future tooth decay and helps to prevent the development of periodontal disease.
5. Restores normal jaw function
All-on-4 implants are a permanent restoration option that restores normal jaw function. They firmly affix to your jawbone so that you can eat and chew without issue.
Patients with traditional dentures, on the other hand, still have to be careful about what and how they eat. Furthermore, chewing with a missing or damaged tooth can be a real challenge.
6. Improves appearance
Having missing teeth can really impact your confidence. When you lose a tooth, it can change your facial and jaw structure. You can also experience jaw deterioration, speech changes, and sunken teeth.
Additionally, your other teeth can start to shift, further impacting your appearance. An All-on-4 implant restores the look of your mouth so you can smile and laugh without hesitation.
7. Ideal for those needing multiple tooth replacements
One of the most significant advantages of All-on-4 implants is that it replaces the entire upper or lower dental plate, which is ideal for anyone requiring multiple tooth replacements. If you're missing some or all of your teeth, then All-on-4 is the best option.
Get All-on-4 Dental Implants at Bloor West Smiles
If you're unsure which implant treatment is right for you, contact the dental experts at Bloor West Smiles. We will assess your current condition and recommend the best custom treatment plan for you. For patients with multiple missing or damaged teeth, an All-on-4 dental implant solution may be the best treatment option.
To learn more about All-on-4 implants in Bloor West, call Bloor West Smiles at 647-371-1407 or contact us here.