Meet the Bloor West Smiles Dental Team
You will love our friendly dentists, hygienists, assistants and front office staff
Delivering you the highest standards of dentistry and patient care is our number one goal. Most of the BloorWestSmiles team members have been here for many years and this ensures you a real friendly and family environment.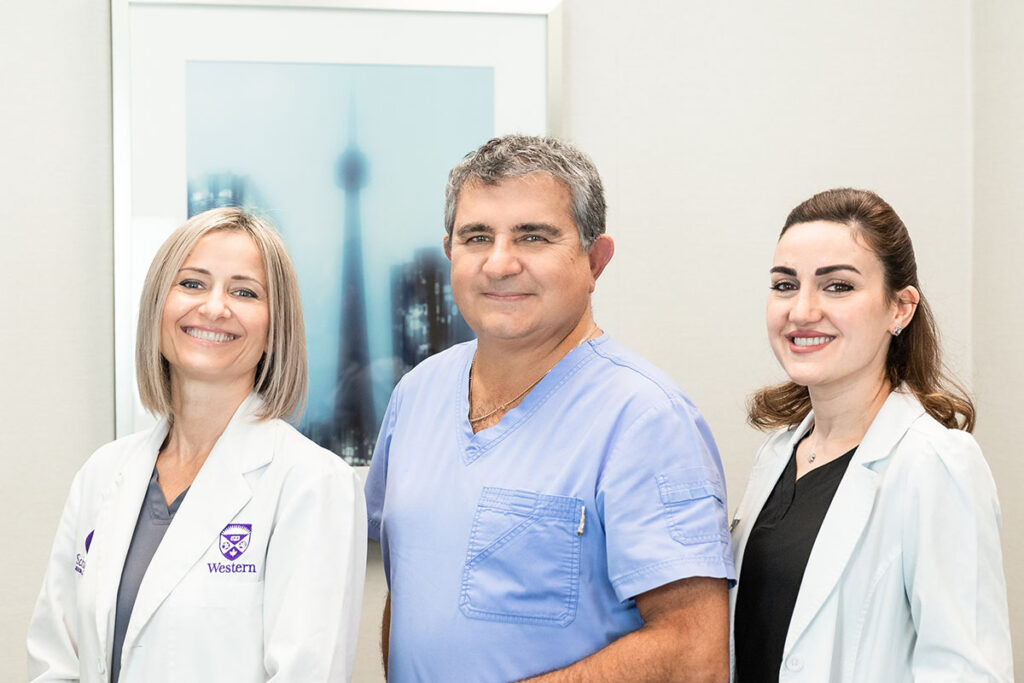 Meet Dr. Alexandre Kostirko
Advanced Dentistry with a Personal Touch
As a patient you always want to make sure that you are dealing with the very best dentist. No one wants to put their trust, money, and mouth in the hands of a dentist who inspires anything less than complete confidence. Dr. Alexandre Kostirko has the skills, experience and compassion to be your new dentist. Dr. Kostirko was licensed by the
Royal College of Dental Surgeons
of Ontario in 1988 and immediately started to practice as an associate in several dental clinics before establishing his own private practice in Toronto in 1993. In 1998, he successfully completed studies at the Faculty of Orthodontic Research and Continuing Education and has since been proudly offering quality orthodontic care to his patients. In 2010 Dr. Kostirko was awarded the prestigious Fellowship to the
International Congress of Oral Implantologists
. As new advances in
dental care and treatment
continue to emerge, Dr. Kostirko makes sure to remain fully knowledgeable and trained on cutting edge techniques and technologies. Such advances can do wonders for patients, and he wants to ensure his patients enjoy every advantage and have the best treatment options possible. Over the course of his career, Dr. Kostirko's post doctoral studies in Europe, USA and Canada have given him hands-on knowledge and experience in treating advanced fields of modern dentistry and with a genuine love for his profession, he continuously strives to bring together the art and science technology of dentistry to design beautiful smiles.
Dentistry for me is more than an occupation, it is my passion. I truly feel blessed to be able to go to work every day and do what I love.
His professional affiliations and recognitions include:
Royal College of Dental Surgeons of Ontario
Ontario Dental Association (Membership Award for 25 Years of Service)
International Congress of Oral Implantologists
Faculty for Orthodontic Research and Continuing Education
Fellowship Status in the International Congress of Oral Implantologists
Completed Mini Residency (November 2016) in Advanced Hard & Soft Tissue Techniques in Implant Therapy
Advanced Certificates of Study Awarded by the Misch International Implant Institute, Urban Regeneration Institute and the Pikos Institute Certificate in Advanced Occlusion for Comprehensive Rehabilitative Dentistry
Dr. Kostirko is more than just a
dentist in Toronto
. Outside of the office he enjoys spending time with his wife and family. His many hobbies include playing on and coaching in a men's soccer league, biking, tending to his flower and vegetable garden and proud beekeeper – producing over 50 litres of honey every season .
Meet Dr. Mayasah Albeer
Dr. Mayasah Albeer earned her first dental degree in 2008 from the University of Science and Technology; UAE. In 2013, Dr. Albeer successfully completed the National Dental Examining Board of Canada examinations and joined our practice in 2014. Additionally, Dr. Albeer completed her Invisalign Provider Certification in 2014 and has proudly been providing this service to her patients.
Her professional affiliations/recognitions include:
The Royal College of Dental Surgeons of Ontario
Canadian Dental Association
Ontario Dental Association
Certified Invisalign Service Provider
Dr. Albeer believes that her compassion and great interpersonal skills establish strong relationships, which ensure that her patients receive great comprehensive dental care. When not at work, Dr. Albeer enjoys spending time with her family and is a busy mom to two young children.
Meet Dr. Ulyana Romanyuk
Dr. Ulyana Romanyuk was born in the city of Lviv, Ukraine. Her entire family, generation after generation, has been involved in medical science. She was first inspired to enter the dental profession by her grandmother, who was considered the "pioneer" of Dentistry in Ukraine. As a child, Dr. Romanyuk spent a lot of time with her grandmother in the clinic and was privileged to observe what a wide variety of dentistry disciplines had to offer. She has not regretted a single day in her profession and feels privileged to help people and make them smile! Dr. Romanyuk graduated from the
Lviv Medical University
, Faculty of Dentistry, in 1996. She completed her internship in Dental Surgery for two years following her graduation.  Dr. Romanyuk practiced oral surgery at the University dental clinic and provided general dentistry at a private practice until she came to Canada in 2005. In Canada, she worked in the dental setting and simultaneously continued her education to enter Canada's dental program. From 2012 to 2014, Dr. Romanyuk was enrolled in the Doctor of Dental Surgery, ITD Program
at Western University
, London, Ontario, and graduated in 2014. Since graduation, she has been in private practice and performs all general dentistry disciplines. Dr. Romanyuk has always strived to learn more about the profession and takes continuing education courses globally. The majority of her continuing education is in implantology, bone and
soft tissue grafting
. Over the course of her career, Dr. Romanyuk's extensive post-doctoral studies have included prestigious certifications.
Her professional affiliations/recognitions include:
Ontario Dental Association
The Royal College of Dental Surgeons of Ontario
Dr. Karl Misch Implant Institute
Dr. Istvan Urban Regeneration Institute
Dr. Marius Steigman Implant Institute
In her time off, Dr. Romanyuk enjoys recreational activities with her two daughters, playing the piano and teaching her youngest daughter this discipline. She also enjoys reading, exploring nature, and yoga as some of her other hobbies.
Meet The Admin Team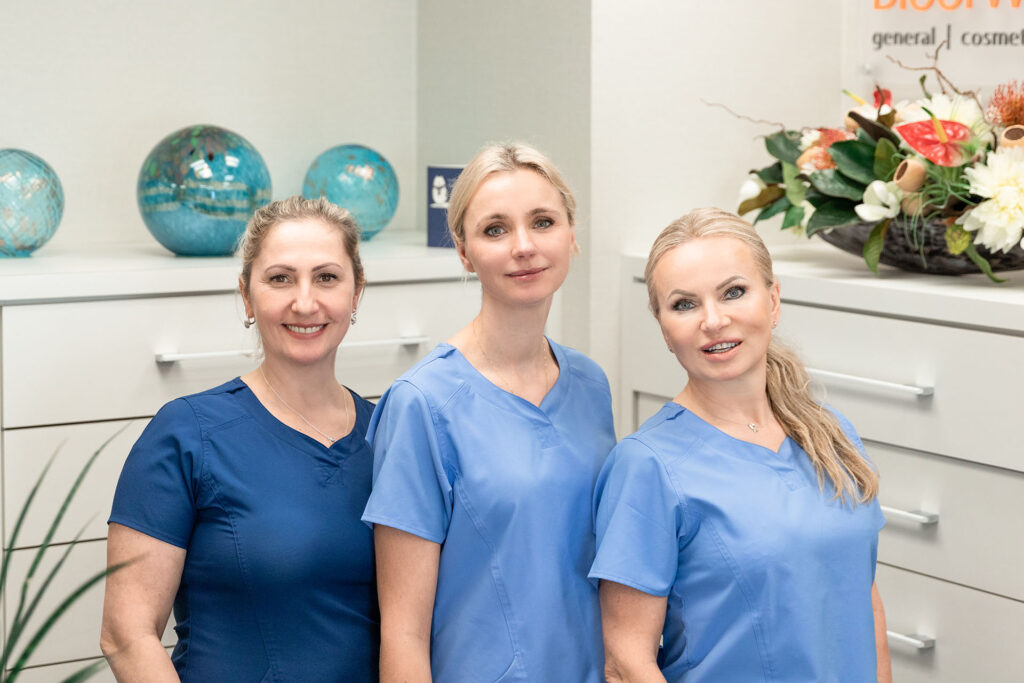 Joanna, Treatment Coordinator, Olivia, Clinic Manager, Urszula, Treatment Coordinator
Meet The Assistant Team
Natalia, Assistant

Viktoriya, Assistant

Inga, Assistant
Meet The Dental Hygiene Team
Olga, Hygienist

Adrianna, Hygienist
We sincerely appreciate the loyalty of our existing patients and are always excited to meet new patients. We do not take for granted the trust you have placed in us , and with every communication we will strive to earn your respect and loyalty.
Visit Bloor West Smiles to see for yourself what makes us special and the place we hope you make your dental home.