Orthodontics Services in Toronto
Orthodontics Bloor West – Braces for Every Age
Having a straight, properly aligned smile doesn't just affect the way you look or feel about yourself. It can even impact how healthy your teeth are in general. Generally speaking, if you have problems with misaligned or crowded teeth, you're at a higher risk of developing cavities or gum disease. Fortunately, you can access comprehensive orthodontic treatments (braces or other appliances) for adults and children alike, right here in-house at your local Bloor West Village dental practice!
Straighter Teeth with Professional Orthodontics Services
It's never too late for you to consider teeth straightening or orthodontics. Plus, you have the convenience of accessing the treatment right in your family dentist office, with the team you know and trust.
How Corrective Orthodontics Helps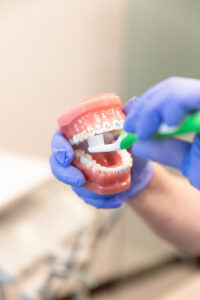 Depending on your age, oral health, concerns, and personal dental history, you may want to opt for corrective orthodontics to address:
Breathing and swallowing difficulties
Over, Under, and Cross bites
Crowded Teeth
Disfiguration of the face & mouth
Jaw pain and missing teeth
Protruding upper teeth
Spacing
Speech, chewing, or biting problems.
Self Image concerns.
In addition to being harder to clean, a misaligned bite pattern may lead to chewing and nutrition problems in the future. A few examples include abnormal wear on your teeth and strain to the temporomandibular joints (TMJ).
Ortho (Braces) for Young Children
Wouldn't it be easier if you could have your child's braces managed by your family dentist?
Younger children
have specific concerns that are best managed early. For instance, finger and thumb sucking in a very young child can cause several problems later on. Or losing teeth prematurely could make it difficult for the adult tooth to erupt properly. Intervention aids or appliances can help prevent issues when they're much easier to address. Since your child's primary teeth act as guides to the permanent teeth, it is important to correct the alignment early. Try to have your child assessed by age 7, especially if thy have a thumb or finger habit.
Corrective Appliances and Interceptive Resources
Depending on the intervention or type of braces your child needs, a variety of different orthodontic appliances can help his or her bite to develop properly on its own. Examples include retainers, space maintainers, tongue cribs, and Phase I/Phase II braces. Finding the right option for your family is as easy as scheduling a consultation with our
experienced team
.
Invisalign: The Clear Ortho Option for Adults
You're never too old for a straighter, healthier bite. However, you might be a bit hesitant to consider wearing standard brackets and wires. That's exactly why
we offer Invisalign
! When you wear these clear, removable aligners, you can straighten your teeth without other people knowing that you're doing so. Plus, you can eat anything you want.
Schedule a No-Pressure Orthodontic Consultation
The first step to a straighter smile is booking a complimentary consultation to discuss which type of braces are appropriate for your unique needs. Dr. Kostirko will also let you know what to expect after you get your braces on and how to take care of them. Are you looking for a highly experienced family dental team with in-house orthodontic services? Schedule your initial visit with us today by visiting our
contact page
! You can also check out our other services to learn more about our complete family-dental care!