Invisalign Treatment in Toronto
Straighten Your Teeth without Braces
Until now, you may have chosen not to correct teeth that are crooked or misaligned because of the potential hassles of wearing traditional metal braces, or the impact on your daily life. Metal braces can feel cumbersome, uncomfortable, and most of all, be very noticeable. Fortunately, technology gives you another option – Invisalign. Invisalign straightens your teeth, not with brackets and wires, but with a series of clear, customized, removable appliances called aligners. They are virtually undetectable when you talk or smile around friends. And because the Aligners are fully removable, there are no restrictions on what you can eat.
The Benefits of Invisalign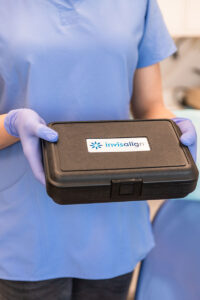 Enjoy the convenience of:
Comfortable aligners that are uniquely designed for your smile
Freedom to go throughout the day without others knowing you wear braces
Eat all of your favourite foods anytime you want
Easier home care – just brush and floss as normal
Because straightening teeth sometimes takes months or years to complete, the idea of having to wear metal brackets on your teeth is probably not your most favourable option. That's why you should ask an authorized Invisalign dentist if the solution is right for you.
Cosmetic teeth straightening
may only take you six months!
How Does Invisalign Work?
Choosing the Invisalign system means utilizing advanced 3-D computer graphic technology with the science of dentistry. Invisalign Aligners are designed to move your teeth in small steps to the desired final position, so that you don't have to wear brackets and wires. Each Aligner is precisely calibrated and manufactured to fit your mouth at each stage of the treatment plan. Change your aligners out as directed, and you'll see your smile straighten right before your very eyes. Plus, all of the trays are available right here at your family dental practice. There's no need to drive all over Toronto looking for a separate
orthodontist
. Your visits are fewer and shorter, because of how predictable the Invisalign system works.
Book Your Complimentary Consultation Today!