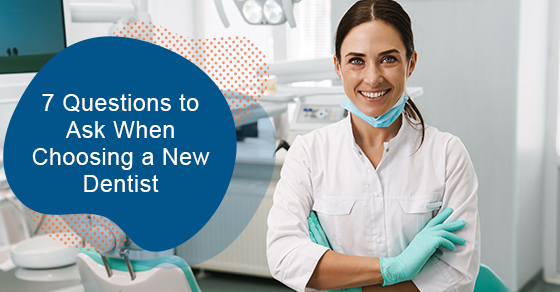 7 Questions to Ask When Choosing a New Dentist
Choosing a new dentist is an important decision. After all, this person is going to play a significant role in your oral health and overall well-being. You're trusting them with the care of your mouth for many years to come.
Furthermore, you need to feel confident in their abilities to do sometimes difficult dental work with expert care (and, ideally, as pain-free as possible!).
As you begin your search for a new dentist, it's paramount to do your research. Once you have narrowed down your choices to a few possibilities, ask them the following questions:
1. What do you specialize in?
First, it's important to learn if your potential dentist has any specialties. This will help determine if they're a good fit for you.
For example, if you may need some cosmetic procedures in the future, you will need a dentist that specializes in cosmetic dentistry. Alternatively, maybe you need a kid-friendly dentist.
Most dentists provide a range of services at their practices. Consequently, knowing a specific dentist's specialties can help you narrow down your choices.
This is also a good time to inquire about their experience. How many times have they performed a given dental procedure? The more hands-on experience they have, the better.
2. Are there any dental treatments you do not offer?
Now that you understand what your new potential dentist specializes in, it's time to ask what they do not offer. Not every practice provides every possible dental treatment.
They may refer you to a specialist or another practice for certain procedures. You should know what those procedures are and where they will refer you before you make any decisions.
At Bloor West Smiles, we provide a variety of oral health services for every age. These include restorative dentistry, cosmetic dentists, child orthodontics, Invisalign, dental implants, senior and children's dentists, and emergency dental care.
You will not be referred to another dental provider for any of these treatments.
3. Is your practice busy?
In other words, how difficult will it be for you to get an appointment?
It's good that your dentist has a thriving business with many trusting and devoted clients. However, if your dentist is too busy, you'll likely have a hard time making an appointment.
After all, you're busy too! Therefore, it's crucial that your dentist's schedule also works with your busy lifestyle.
Furthermore, be sure to inquire about the availability of emergency treatment. A dental emergency can be frightening and painful. You should know that you'll be able to get the help you need when you need it.
4. Will I always have the same dentist or is there a rotation system?
Do multiple dentists work at the practice? If so, it's useful to know if you will always have the same dentist or if you'll be dealing with different dentists at different appointments.
You may feel more comfortable seeing the same dentist every time. After all, they are the dentist you trust and whose abilities you feel confident in.
Consequently, if the practice has a rotation system or refuses to guarantee that you will see your dentist at every appointment, then they probably aren't the right fit for you.
However, there is something else to consider. What happens if your dentist is away or sick? Will a partner at the practice take over or do you have to wait for your dentist to return?
When you learn the answers to these questions ahead of time, you won't be surprised later on.
5. What check-up schedule do you recommend?
And what is involved in these check-ups? Plus, how does your dentist determine how often they need to see you?
Different patients have different oral care needs based on their age and health. Consequently, your recommended check-up schedule should be tailored to fit your unique dental needs.
Your dentist should have a strategy for your oral health rather than taking a one-size-fits-all approach.
Likewise, your dentist should provide an overview of what procedures are essential and which are elective. This is a part of creating an oral health plan that's best for your long-term health.
6. How often do you take x-rays?
X-rays are a vital component of preventative dental care and should be a part of every oral health plan. Why? Many dental issues and serious conditions are undetectable except by an x-ray, and you may not feel any oral pain until your condition is critical.
X-rays allow your dentist to diagnose problems while they're still treatable.
Given their importance, you should ask how your potential dentist approaches x-rays. Do they take them every year? Do x-rays inform their treatment plans?
If a dentist can't provide a clear explanation for their x-ray strategies (or rarely uses them), it's best to continue your search.
7. Do you have positive references?
Finally, does the dentist have positive references? Do they have a long list of happy clients who rave about their skills, quality of care, and customer service?
Do their ongoing patients trust and rely on them? And, do their past clients have only good things to say?
One of the best ways to get an accurate assessment of the quality of any professional is to ask their current and previous clients. Learning how their patients feel about them will help you make the right decision.
Your dentist is going to play an important part in your overall health and well-being. Of course, they must be highly skilled in their field. However, they should also be personable and treat their patients well.
Their practice should feel welcoming and put you at ease, not fill you with dread.
Looking for a new dentist? Contact Bloor West Smiles!
At Bloor West Smiles, we put your needs front and centre. Our personalized approach to treatment focuses on your unique dental needs and cares for your long-term dental health.
Plus, we want to get to know you! We are proud to have built lasting relationships with our patients and a practice where all feel welcome.
If you're looking for a new dentist or have any inquiries about your dental health, don't hesitate to call (or even come by for a tour of our clinic).
Looking for oral health services in Toronto? Call Bloor West Smiles at 647-371-1407 or contact us here.