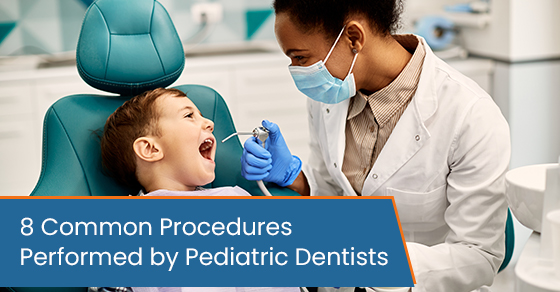 8 Common Procedures Performed by Pediatric Dentists
Pediatric dentists specialize in the health and care of your child's teeth. They remove plaque and tartar during regular checkups, treat cavities using fillings or crowns, and resolve orthodontic issues with braces or retainers. Furthermore, pediatric dentists monitor the growth of your child's teeth.
Here are eight of the most common dental procedures pediatric dentists perform at Bloor West Smiles.
1. Dental Cleanings
Professional dental cleanings are essential to everyone's long-term oral well-being, no matter how old (or young) the patient is! Like their parents, children should visit their dentist at least once every six months for a thorough cleaning and checkup. After all, baby teeth require the same level of care as adult teeth, even though they will eventually fall out.
During your child's routine dental cleaning, the pediatric dentist removes plaque and tartar buildup using special tools. These tools are designed specifically for children's smaller mouths. Additionally, we will take X-rays and administer fluoride treatments.
Regular cleanings are vital for children since they consume more sugar than adults and have poorer oral hygiene habits. These appointments are also an opportunity to monitor the development of your child's adult teeth and check for anomalies.
2. Fluoride Treatment
Fluoride is an essential part of modern dentistry. When the mineral composition of tooth enamel weakens, cavities form. Fluoride helps restore decalcified areas, thus strengthening the enamel and preventing tooth decay.
For this reason, we always recommend choosing toothpaste with fluoride (remember only to use a pea-sized amount!). It's also the reason why your child's pediatric dentist will apply a fluoride treatment during routine checkups.
3. Cavity Treatment (Fillings)
Cavity treatment is one of the most common dental procedures pediatric dentists perform. Most children will experience tooth decay for a variety of reasons. For example, their primary teeth are weaker than adult teeth, making them more prone to developing cavities. Additionally, children often consume more sugary foods and drinks.
This increased sugar intake feeds the bacteria that already exist in the mouth. The bacteria then produce an acid that eats away at the tooth enamel, which leads to tooth decay. It's vital to address cavities quickly before the damage becomes serious. Fortunately, most cavities are treated with a quick and straightforward procedure: fillings.
Fillings are a simple procedure used to repair tooth decay. The dentist numbs the infected tooth before removing all damaged areas. The tooth is then filled with a durable material to restore its look and function.
4. Dental Crowns
Fillings are not the only solution for damaged teeth. Dental crowns are another common restorative pediatric dental procedure. They treat significant issues such as severe cavities, infection, damage caused by an injury, or cracked teeth. A dental crown restores your child's ability to chew without pain while blending perfectly with natural teeth.
5. Extraction
Sometimes, a tooth is too damaged by decay or injury to restore properly with a filling or dental crown. In these cases, your pediatric dentist will recommend a tooth extraction.
There are many reasons why your child may require an extraction. They may have an overly infected tooth or sustained an injury playing sports. Alternatively, there may not be enough room for the targeted tooth in their mouth. Wisdom teeth are often removed for this reason. Pulling a tooth can be the only way to prevent overcrowding.
Extraction may sound scary. However, this is a common and perfectly safe procedure. At Bloor West Smiles, Dr. Kostirko understands the anxiety that can affect children and parents before tooth extraction. That's why we do everything we can to make all our patients feel comfortable and at ease.
6. Early Orthodontic Care
The earlier you can detect and fix orthodontic issues, the better! Your child's pediatric dentist will check for overcrowding, bite problems, and tooth alignment problems during routine appointments. If left unaddressed, these issues can cause discomfort, speech problems, difficulty chewing, and an increased risk for tooth decay.
Braces, clear aligners, and retainers are common orthodontic treatments for children.
7. Dental Sealants
Dental sealants are thin, plastic coatings applied to children's teeth to stop the development of cavities. They prevent food debris and plaque from building up in the natural grooves of the teeth and on the chewing surface. Your dentist may use sealants on the back teeth and molars most susceptible to decay.
8. Emergency Dental Care
Many children will experience injuries involving their teeth and mouths between sports and regular childhood mischief. That's why emergency dental care is another standard service provided by pediatric dentists. If your child has sustained an injury to their mouth, such as a broken or knocked out tooth, it's crucial to see their dentist as soon as possible.
Preventative Education: Teaching Good Oral Health Habits to Children
Prevention is always the best medicine. Consequently, it's vital to teach children the importance of good oral health habits from an early age. Both pediatric dentists and parents must shoulder the responsibility of educating the littlest patients on the best way to care for their teeth.
When your child visits Bloor West Smiles, our team helps reinforce the preventative strategies that you're showing your child at home. They should be brushing twice daily and flossing independently from age eight or nine. Building a solid dental hygiene routine from a young age is crucial for their long-term health.
Looking for a Pediatric Dentist in Toronto? Contact Bloor West Smiles
At Bloor West Smiles, we're committed to happy visits for your children. Our pediatric dental staff is dedicated to helping your child feel comfortable in our dental offices and that daunting dental chair. We combine clinical expertise with compassion to provide the best dental care possible.
From your child's first exam through their teenage years, we provide comprehensive dental care that meets your child's unique needs. Contact us to learn more about our excellent services, or book your appointment today.
To find a pediatric dentist in Toronto, call Bloor West Smiles at 647-371-1407 or contact us here.