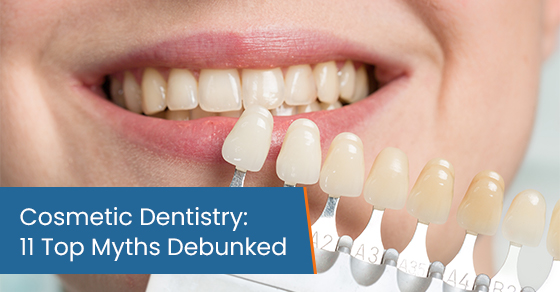 Cosmetic Dentistry: 11 Top Myths Debunked
Cosmetic dentistry is not just for Hollywood stars! Anyone can benefit from a cosmetic dental procedure, and many of our Toronto patients have. After all, cosmetic dentistry has the power to transform your smile and your confidence.
These treatments can also restore the function of your mouth and preserve the longevity of your teeth, thus preventing the need for additional dental procedures.
However, there are many myths surrounding cosmetic dentistry. In this article, we will address (and correct) these common misconceptions.
Myth #1: Cosmetic dental procedures are not necessary.
Unfortunately, many people still believe that cosmetic dentistry is a luxury instead of a necessity. The fact is that cosmetic dentistry is actually used to fix a wide range of dental issues. These procedures improve your oral health and the appearance of your smile. Receiving a cosmetic procedure (like veneers or bonding) helps promote the longevity of your teeth and prevent serious issues like tooth loss.
Additionally, necessity depends on the individual. If you're embarrassed about your smile, you know first-hand what a difficult experience that is. In these instances, cosmetic dentistry may feel necessary. After all, you should be able to smile and laugh without hesitation or embarrassment. Cosmetic dentistry can boost your confidence so you can engage with your life more fully.
Myth #2: Cosmetic dentistry is only used to improve the appearance of your smile.
Cosmetic dental procedures are not purely cosmetic. Although they are used to improve the appearance of your smile, these treatments also restore the function and longevity of your teeth. Essentially, cosmetic dentistry addresses your oral health as well as appearance.
Let's take veneers as an example. A thin layer of porcelain is adhered to your natural teeth, masking minor imperfections like discolouration or chips. However, veneers also strengthen weakened teeth and protect against further damage. Since they last for 15-20 years, veneers can protect your teeth for decades.
Myth #3: Cosmetic dentistry is extremely expensive.
Cosmetic dentistry used to come with a large price tag. However, this is no longer the case. Technological advances have made cosmetic dentistry much more affordable and accessible to patients in Toronto. Additionally, some cosmetic procedures are restorative, so they are partially covered by insurance companies.
Myth #4: Cosmetic dental procedures will damage your teeth.
The dentists at Bloor West Smiles are highly experienced and knowledgeable of cosmetic and restorative dental procedures. Your teeth will not be damaged. Rather, you will leave our office with a new smile you love.
Remember, the goal of cosmetic dentistry is to preserve and protect your natural teeth from damage, as well as improve your smile's appearance. If your teeth are damaged in the process, it defeats the point.
When it comes to teeth whitening, choosing an over-the-counter product instead of a professional whitening procedure does have risks. The teeth-whitening treatments provided by Bloor West Smiles will not damage your teeth. However, the same cannot be said for over-the-counter products; these can weaken the tooth enamel.
Myth #5: Cosmetic dental procedures will make your teeth look fake.
Modern cosmetic dentistry produces natural, beautiful results. Your teeth will look better than ever, and no one will realize you underwent a cosmetic procedure. Whether you're opting for professional teeth whitening or veneers, your teeth will not look artificial.
At Bloor West Smiles, we use modern technology and processes to achieve a beautiful, natural-looking smile for all of our Toronto patients.
Myth #6: Cosmetic dental procedures cause unnecessary pain.
Many people still associate dental procedures with pain. This just isn't the case. Most cosmetic procedures are minimally invasive and will not cause you pain. You may experience some discomfort and sensitivity at most; however, this should fade quickly.
If you're feeling any anxiety prior to your cosmetic procedure at Bloor West Smiles, we will happily answer any questions you may have. We want you to feel comfortable and at ease going into your treatment.
Myth #7: Cosmetic dental procedures take a long time.
Many cosmetic dental procedures are completed in a single appointment. After just one or two hours, the appearance of your smile will be transformed. As with most dental procedures, technological advancements have made them faster, safer, and more effective.
Myth #8: Cosmetic dentistry is only suitable for younger people.
Cosmetic dentistry is for everyone, regardless of your age. Tooth discolouration, cracks, misalignment, and other dental issues do not discriminate based on age. Senior citizens also experience these minor issues, which can affect the function of their mouth as well as their confidence. After all, everyone wants to have a beautiful smile!
Myth #9: Few people get cosmetic dental procedures.
Cosmetic dental procedures are becoming increasingly common. Many of our patients in Toronto have opted for a cosmetic treatment to improve the appearance of their smile and protect the longevity of their teeth. We offer a variety of cosmetic procedures such as veneers, teeth whitening, dental bonding, and orthodontics.
Myth #10: At-home teeth-whitening kits provide the same results as your dentist.
At-home teeth-whitening kits rarely provide the desired results. Furthermore, they can actually damage your teeth in the process. Many over-the-counter teeth-whitening products contain ingredients that weaken your teeth's natural enamel, leading to tooth sensitivity.
Professional teeth-whitening treatments provided by your dentist at Bloor West Smiles are extremely effective and safe. We offer custom-made, take-home whitening trays that you can use safely in the comfort of your own home. Your smile will be brighter, whiter, and free from stains.
Myth #11: Only braces can fix crooked teeth.
There are actually several ways to fix crooked teeth without the use of braces. For example, dental veneers can correct slight misalignment and unevenly shaped teeth. Whereas braces or Invisalign can take several years to fix corrected teeth, veneers dramatically improve the appearance of your smile after a single appointment.
Cosmetic Dentistry in Toronto
Dr. Kostirko of Bloor West Smiles is one of Toronto's premier cosmetic dentists. With more than 20 years of experience, our team has the knowledge and skills to transform your smile so you can live with confidence.
We can help with a wide variety of cosmetic issues, including discolouration, gaps, chips, cracks, and uneven teeth. We look forward to welcoming you into our clinic at Bloor West Smiles.
To learn more about our cosmetic dentistry in Toronto, call Bloor West Smiles at 647-371-1407 or contact us here.