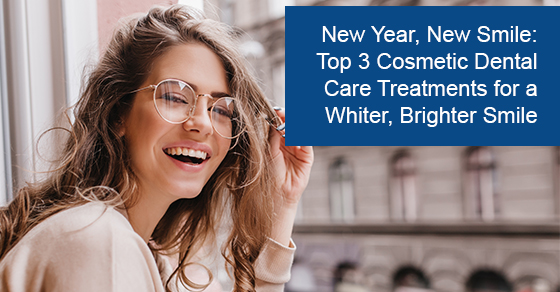 New Year, New Smile: Top 3 Cosmetic Dental Care Treatments for a Whiter, Brighter Smile
We all look forward to the new year because it brings a fresh set of possibilities for living a better, happier, and healthier life. It's why we make resolutions, a countdown to midnight, and ring in the new year with a toast to a new life. But while everyone else is ringing in the new year with smiles, can you confidently return theirs with a bright, shiny one of your own?
This coming year, make it your mission to get the bright and healthy smile you deserve. Ring in the new year and celebrate everything it has to offer with a huge, confident smile. Don't let yellowing or staining, chips or broken teeth, and other imperfections define your smile this new year. Make a lasting impression when you flash your pearly whites, and embody utmost confidence and self-esteem at work and among your peers.
Everyone knows to brush and floss, visit their dentist, and get cavities treated to keep teeth strong and healthy. Unfortunately, basic oral hygiene isn't always enough to undo years of damage from staining, chipping, and other imperfections that make your smile less than bright and healthy.
Despite common misconceptions regarding its value and importance, cosmetic dental care is quite similar to basic oral hygiene and dental care. It is an investment in both the health and appearance of your smile. Stained, chipped, and broken teeth are not healthy — they impact the quality of your smile, and with that, your quality of life.
An unattractive smile has proven to hurt people's chances at making a good professional impression, starting a relationship, and overall, maintaining healthy self-esteem. And because some cosmetic dental issues involve chipped and broken teeth, these issues can progress and become serious dental concerns.
That's why this new year, a better, brighter smile is in order. It's time to discover your cosmetic dental care options in Toronto for achieving a brighter, whiter smile with lasting results:
Cosmetic Dental Care Treatments for a Whiter, Brighter Smile
1. Teeth whitening
The most popular cosmetic dental care treatment available, teeth whitening, is designed to restore your bright smile. Flash your dazzling set of pearly whites after just a few treatments, with noticeable results.
Teeth whitening is an easy and lasting fix for stained and discoloured teeth. Staining and discolouration occur due to exposure to acids and food colouring commonly found in your favourite food and drink.
Over time, these chemicals can cause the enamel on your teeth to wear off, exposing the yellow dentin underneath, resulting in a yellow tinge. With a few sessions of this cosmetic dental treatment, teeth become visibly lighter and severe shades whiter.
At-Home vs. Professional Teeth Whitening
Everyone wants a whiter, brighter smile, and now there's more than one way to get it. There's no shortage of teeth whitening options both at home and at your dentist's clinic. While there are many commercial kinds of toothpaste with peroxide promising brighter smiles and tooth whitening strips to apply on your own at home, there's no substitute for cosmetic dental treatment.
Ask your dentist about teeth whitening treatments. They will assess the current shade and the degree of staining or discolouration to tell you many sessions you will need to achieve a visibly whiter smile.
Your dentist will use a bleaching agent and apply it using gum-safe methods to restore your teeth's white enamel. Depending on the degree of staining, it will only take a few sessions to see visible results in a dazzling smile that's several shades brighter and healthier.
Note that preserving your whiter, brighter smile comes with good oral hygiene and lifestyle habits — brush and floss regularly, and avoid food and drink that cause staining.
2. Porcelain veneers
Another popular cosmetic dental care treatment in Toronto, veneers, consists of permanently attaching porcelain — or other similar materials — to your existing teeth. Veneers are designed to hide certain imperfections that draw attention away from an otherwise beautiful and unique smile. Porcelain veneers are especially popular because it's a strong ceramic, and when expertly crafted, look just like your natural teeth — no will even be able to tell the difference.
Each veneer is custom-fabricated to match your affected tooth's natural enamel. Veneers come in a range of colours, shapes, and lengths, each carefully selected to match your smile and restore its appearance. And because porcelain is stain-resistant, you won't have to worry about your teeth staining and discolouring — they'll never look less than perfect again. Veneers can be applied on just a single tooth or all of your visible teeth as needed.
How Veneers Are Applied
Before proceeding with this cosmetic dental treatment, your dentist must first determine if you are a good candidate. They will then begin preparing your teeth, starting with applying a local anesthetic to keep you comfortable throughout this process.
Your dentist will first remove a small layer of enamel to make room for the placement of veneers. This prevents treated teeth from becoming bulky. Afterwards, they will take impressions and send them to the lab to fabricate your custom veneers. In the meantime, you may be fitted with temporary veneers to compensate for the removed enamel.
Once your custom veneers are ready, your dentist will confirm whether the size, shape, and colour are a perfect fit and order minor adjustments as needed. Shortly after, you'll walk out of the clinic with veneers permanently bonded to the front of the teeth. These veneers should enhance your smile for a long time with proper dental care and lifestyle habits that avoid chipping and breakage.
3. Dental bonding
Did you know that the material used in dental fillings are highly versatile? That's right — they don't just help restore and protect teeth from cavities. They can also improve their appearance for a whiter, brighter smile. This cosmetic dental treatment is known as dental bonding.
Dental bonding is a cosmetic dental treatment designed to correct chipped and broken teeth and fill in gaps in between teeth that are not evenly spaced. This dental treatment helps restore your teeth' integrity and appearance so that you can flash a bright and healthy smile.
The Dental Bonding Process
Your cosmetic dentist will first apply a conditioning liquid on your teeth to prompt the bonding material to take hold. This is followed by a resin layer, which is moulded to the desired shape for removing imperfections in your smile. These layers are then hardened using UV light, and afterwards, final adjustments are made to ensure that the restorations match your natural teeth.
For best results, you can opt for combined cosmetic dental care in Toronto — teeth whitening with bonding, so you can smile with teeth that aren't just visibly whiter and brighter but permanently stronger and evenly shaped.
To learn more about your options for getting a brighter, whiter smile, call Bloor West Smiles at 647-691-8363, or contact us here.