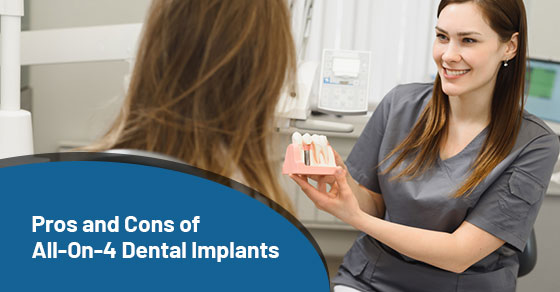 Pros and Cons of All-On-4 Dental Implants
Missing teeth can change the way you look, feel and approach life. From sagging lips to crooked bites, missing teeth may lead to bigger problems. One way to improve your smile is all-on-4 dental implants in Toronto.
Missing teeth occur for many reasons, including:
Age
Gum disease
Rotting teeth
Weak teeth
Illness
Nutrition
At Bloor West Smiles, we serve families across Toronto through a variety of dental services. Working with clients in GTA, we know our share about implants, the benefits, downfalls and everything in between. Keeping our clients informed is important to us, which is why we're sharing our insights on the pros and cons of all-on-4 dental implants.
What are all-on-4 dental implants, and how do they work?
Dentures aren't the best option for every mouth. Some patients prefer a sturdier, more permanent solution to missing teeth. All-on-4 dentures use a combination of implants and prosthetics to secure teeth in place.
Using this procedure, Bloor West Smiles dentists can replace a full arch. Four implants are secured by drilling into the jawbone. Porcelain crowns are mounted on the implants to create the appearance of natural teeth. Multiple prosthetic teeth can be connected to each implanted post. This provides a full set of teeth without the need for dentures.
Benefits of All-on-4 Dental Implants
There are several benefits that all-on-4 dental implants offer patients in Ontario, including:
Eat and Drink Normally: Eat all the foods you love again, as you did before tooth loss. There are some foods you may want to avoid, like hard, crunchy foods, which may risk cracking a cap. Otherwise, you can dine at home or in public with nobody knowing your teeth are any different from their own.
Look and Feel Real: All-on-4 dental implants in Toronto look and feel like your real teeth. While it may take some time to get used to them, eventually, you won't notice any difference. You'll have plenty to smile about, and all your photos will show a full, bright smile.
Short Application Process: The implant and cap process can be completed in a short time frame. Rather than waiting months or years to replace one tooth at a time, once the implant sites are healed, you can have all your teeth applied at once.
No Rubbing: Dentures may look secure, but there is some movement even with the best glue. This friction causes rubbing, which can cause mouth pain, making it difficult to eat and speak.
Less Invasive: While more invasive than dentures, all-on-4 implants are less painful than bone grafting. Bone grafting is sometimes needed when a tooth is placed next to another tooth. This can be quite painful and requires a longer healing period.
Easily maintaining oral health, eating your favourite foods, and seeing a full smile in your photos are all rewards gained through all-on-four procedures.
The Potential Downside of an All-on-4
While there are many benefits of all-on-4 implants, every procedure has its downside. Some of the negative impacts of this procedure include:
Learning to Speak: All-on-4 implants eventually feel like your natural teeth, but there is a learning curve. When you first have the procedure applied, you may find it difficult to speak. This gets easier with practice, but it's definitely a downside.
Tenderness and Discomfort: Unlike dentures, an implant procedure requires drilling into the gums and jawbone. This leaves residual pain and discomfort during the healing process. Tenderness fades, but the initial period following surgery can be too painful to speak or chew through.
Potential Rejection: Not every implant takes to the gums and bone. You may find that the implant is rejected, and this is extremely rare.
They Aren't Individual Teeth: No matter how real your all-on-4 procedure appears, the teeth aren't individual. Each implant is paired with multiple porcelain caps. This is an odd sensation for some patients, especially when trying to floss.
Even with the few potential cons associated with all-on-4 dental implant surgery in Toronto, the benefits are plentiful. If you're not sure it's a good fit for you, speak to your dentist or orthodontist.
All-on-4 Dental Implant FAQs
Still have questions? Here are some common all-on-4 dental implant FAQs we're commonly asked at Bloor West Smiles:
Is the procedure painful?
The procedure is performed under anesthetic, meaning that it could hurt, but you shouldn't feel anything while it's going on. Following the procedure, you may feel sore, and your gums may be inflamed. If prescribed by your dentist or family doctor, you can take over-the-counter pain medication or prescription pain medication.
When can I expect to be back at work?
It's important to rest following any major dental work, but you can expect to be feeling like yourself within 5 to 7 business days. Unfortunately, it might take longer to learn to speak and chew again, so you may want to wait longer before heading to work or out for a social event.
Can I remove my 4-on-one implants?
No, a 4-on-one procedure is different from a denture procedure in that you can't remove a 4-on-one implant. These implants are permanent fixtures, ensuring comfort and reliability. You don't need to remove them to eat or during bedtime preparations. Just forget they aren't real, and don't forget to brush!
Can my 4-on-one break?
Potentially, but it's uncommon. You shouldn't notice any breakage with normal use and regular brushing and upkeep. However, it is possible to break 4-in-one teeth, so your dentist may provide you with a list of foods to avoid or chew carefully.
All-on-4 dental implants aren't the only procedure designed to improve the appearance and feel of missing teeth, but it is useful in many situations. If you are considering all-on-4 dental implant surgery in Toronto, Bloor West Smiles can help. Our experienced dental team is happy to answer any questions from new and current clients.
For more information about 4-on-one implants, call Bloor West Smiles at 1-647-371-1407 or contact us here.