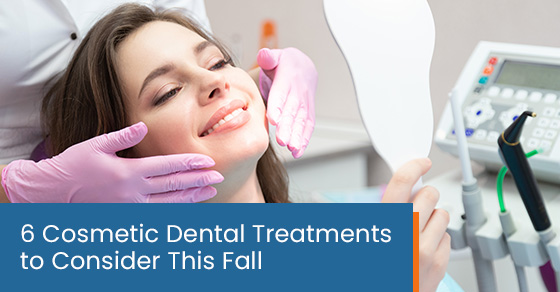 6 Cosmetic Dental Treatments to Consider This Fall
The changing of the seasons is always an exciting time. For many Toronto residents, the arrival of fall is filled with new chapters and beginnings. Maybe you're starting a new job, going back to university, or moving to a new area. Regardless of what this season brings, you want to put your best foot forward, or rather, your best smile!
This fall, turn over a new leaf by investing in your smile with cosmetic dental treatments from Bloor West Smiles. Now is the perfect time to repair any cracks, chips, or discolouration left over from the summer months. You can start this new chapter in your life with confidence and avoid the holiday rush.
Fall Is the Perfect Time to Invest in a Cosmetic Dental Treatment
Summer can be hard on our teeth. Attempting to open bottles, packets, and even packages with your teeth is never a good idea. These tasks are best left to scissors or bottle openers, not your teeth. 
Nonetheless, this is a common occurrence, especially during the summer months. In the excitement of all the season's picnics, BBQs, and outdoor parties, the right tools are often forgotten. People try to use their teeth instead and end up paying the price with a cracked tooth.
Chewing on ice and other hard foods can also damage teeth. You should never chew on ice, no matter how hot it gets.
Furthermore, summer can leave unfortunate stains on our teeth. High pigment, acidic food and drinks discolour teeth over time. Red wine, coffee, and tea are common culprits. However, fruit juices, pop, berries, energy and sports drinks, and tomato-based sauces can also be problematic.
As a result, many people find that their smiles are a little worse for wear by the time autumn arrives. With the holidays right around the corner, you want your smile to be looking its best. Cracked, broken, and discoloured teeth can put a damper on your confidence and willingness to smile.
When you invest in cosmetic dental treatments in the fall, you ensure you can smile confidently at Thanksgiving, Christmas, and New Years. Plus, you avoid the holiday rush that comes with winter.
6 Popular Cosmetic Dentistry Procedures
1. Teeth whitening
Teeth whitening is one of the most sought-after cosmetic dentistry treatments. Both age and lifestyle choices (like drinking coffee or smoking) can cause your teeth to discolour. Dull, yellowed teeth can age your appearance and make you feel self-conscious about your smile. Fortunately, there are safe, reliable, and cost-effective ways to brighten your smile with cosmetic dentistry.
At Bloor West Smiles, we offer custom-fit, take-home whitening trays that transform your smile. You will meet with one of our cosmetic dentists for an initial treatment and fitting before being given your take-home trays. This is a highly effective and affordable treatment option for whitening your teeth.
Furthermore, professional teeth-whitening treatments are always safer and more effective than over-the-counter alternatives. Store-bought teeth-whitening kits rarely deliver the desired results and can damage your tooth enamel in the process.
2. Porcelain veneers
Veneers are ultra-thin layers of porcelain that are adhered to the front-facing part of your teeth. Since only a small amount of enamel has to be removed, veneers are a minimally invasive procedure. You get to keep your natural teeth intact while dramatically improving the appearance of your smile. Plus, they are attached within just a couple of appointments.
Porcelain veneers are perfect for masking minor imperfections like worn enamel, discolouration, gaps, chips, cracks, and uneven teeth. Since veneers are very durable, they also protect your natural teeth from further damage.
3. Invisalign
Invisalign has become a popular option for correcting misaligned teeth because it is highly discrete. Since the aligners are clear, they're far less noticeable than traditional metal braces. It's also easier to maintain your oral hygiene routine with Invisalign, and you don't have to worry about dietary restrictions. Essentially, you can straighten your smile without the inconveniences of traditional braces.
During your Invisalign treatment, the clear aligners apply low amounts of pressure onto your teeth, gradually shifting them into straighter positions. This is done through a series of custom trays over a 12-24 month period.
4. Dental bonding
Dental bonding is an alternative to veneers. Like veneers, bonding quickly addresses small chips, cracks, gaps, uneven teeth, and minor damage. Over the course of a single, short appointment, a tooth-coloured composite resin is applied to the damaged tooth. The resin blends in with your other teeth for a seamless, flawless finish. 
Dental bonding is one of the fastest ways to improve the appearance of your smile. After one appointment, your teeth will be significantly straighter and more symmetrical.
5. Tooth recontouring
Tooth recontouring (or tooth reshaping) adjusts the length and shape of your teeth. It corrects minor variations in the appearance of your teeth, resulting in a more consistent and symmetrical smile. Additionally, this technique can repair small chips.
The procedure is a quick and relatively painless way to address minor issues. Using a rotating instrument, your dentist can adjust uneven edges, length variations, and corners that appear too square. It's particularly useful for front teeth.
6. Crowns
Crowns are commonly used in restorative dentistry; however, they also have cosmetic advantages. Your dentist may recommend a crown or cap to correct an uneven smile.
A crown can conceal cosmetic defects in the teeth, such as chips, cracks, fractures, unevenness, and discolouration. Additionally, a crown can be placed over a short tooth to lengthen its appearance. Crowns also strengthen the existing tooth after it has been weakened by damage. Porcelain crowns are especially durable. 
Bloor West Smiles: Premier Cosmetic Dentistry in Toronto
Cosmetic dentistry can help you step into the new season with confidence. Whether you're looking to make a positive first impression at your new job or simply want to perfect your smile in time for the holidays, cosmetic treatments can help. At the end of the day, cosmetic dental treatments are an investment in yourself.
At Bloor West Smiles, we offer a wide range of procedures that can transform your smile and boost your confidence. We repair cracks, chips, fractures, and misalignment, as well as discolouration. 
Reach out to us today to book a consultation with one of our cosmetic dentists. Don't wait until the winter holidays to invest in your smile.
To learn more about cosmetic dentistry in Toronto, call Bloor West Smiles at 647-371-1407 or contact us here.