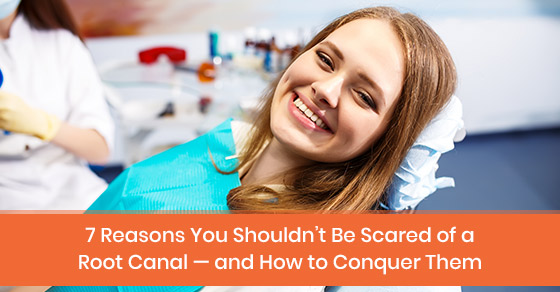 7 Reasons You Shouldn't Be Scared of a Root Canal — and How to Conquer Them
Many people already dread going to the dentist because of the peril of cavities and tooth decay. These fears rarely go away, especially when patients hear the dreaded words "root canal."
Root canals have a reputation for being invasive and scary, but they're actually a simple and straightforward dental procedure. They're recommended for treating teeth damaged by cavities, trauma from previous procedures, or an abscess.
By that alone, it sounds like a routine dental procedure that can quickly restore healthy smiles — so why do so many patients fear it?
While any dental procedure can sound painful at the onset, many people balk at the thought of getting a root canal because it requires dealing with infected nerves at the root of a tooth. This site sounds deep and invasive, and already painful to begin with. But what patients need to understand is that a root canal is a preventive treatment: it saves infected teeth, protects them from further damage, and eliminates pain.
Is your dentist recommending a root canal to treat infected teeth? Don't psych yourself out unnecessarily — a root canal isn't and shouldn't be scary! Here's why:
A Root Canal is a Simple Procedure
The procedure for a root canal is straightforward. Your dentist will apply a local anesthetic to numb your mouth, and a rubber dental dam to keep the infected tooth clean and dry. Thanks to the anesthetic, you shouldn't feel any of these next steps:
Your dentist will then drill a small hole through the tooth to access the infected pulp at the core. They will use a small suction tool to drain the bacteria-filled oral fluids and remove the infected pulp. Once the area is clean, the infected pulp will be replaced with 'gutta-percha' in preparation for a permanent crown or filling, which strengthens the tooth and prevents further infection.
A Root Canal is Like Getting a Filling
The last step of a root canal involves strengthening the infected tooth with a filling or crown. This long-term protective shell restores its function and appearance and prevents further bacterial infection.
Think of it as a cavity treatment — one that's been severely delayed, which has led to infection at the root of the tooth. Essentially, the root canal is the first step: it cleans the infected area, and the filling is applied to restore the infected tooth back to good health.
Most Root Canals Only Take a Single Appointment
Many patients balk at the thought of a dental procedure or surgery because of the time they think it takes to complete. Worse is the potential need for multiple visits and repeat procedures. While a root canal can take a few hours from start to finish, it can be completed in a single visit.
The entire process of drilling through the infected tooth, removing the infected pulp, and restoring the tooth's shape can be completed in just a couple of hours. A root canal doesn't take multiple stages, spanning several visits to complete. Unless the case is very severe, there isn't any healing required in between the removal of the infected pulp and the application of the protective crown or filling.
Root Canals Shouldn't Hurt as Much
Root canals have long had a reputation for being painful but modern medicine has come a long way. The injection of the local anesthetic won't feel more than a slight prick and will make the procedure absolutely painless.
Once the numbing effect wears off, you can take prescribed painkillers to deal with the common discomfort, and in cases at high risk of infection, an antibiotic. Other than that, a root canal will allow you to resume your normal routine the next day, with little to no restrictions and risk of complications.
A Root Canal Saves Your Tooth
The biggest benefit of a root canal is that it saves and preserves infected teeth. Rather than extract an infected tooth and opt for a much more expensive and painful implant or a fickle denture, a root canal allows you to keep your tooth. That's because the procedure cleans out the infected pulp, then reinforces the tooth with a filling to preserve its natural appearance and function.
Thanks to this, dentists note that root canals have a lifetime success of 85%. This is much higher than in their early days and is practically a guarantee of optimal dental function and good oral health in most patients.
Root Canals Don't Have to be Expensive
Dental procedures have a reputation for being costly, which is a major barrier that prevents many Canadians from accessing much needed dental care. But cost alone shouldn't cause anyone to lose their healthy, beautiful smiles due to cavities, tooth decay, and infections.
Root canals are nowhere near expensive as other dental procedures, such as extraction and implant. This is also why it's crucial for it to be performed as soon as possible, so there is enough of the infected tooth to save and restore with a filling. Root canal procedures are also covered by most dental insurance plans, with little out-of-pocket cost remaining afterwards.
Talk to Your Dentist About Root Canals
A root canal's success is determined by how soon it's performed and the level of care provided by your dentist. It's perfectly normal to be nervous about a procedure, and your dentist knows that.
The best way to conquer this fear is to book a one-on-one consultation where you can safely express your anxieties and apprehensions, and your dentist can address this one by one. You deserve the best dental care, and establishing open and honest communication to ensure your comfort through any procedure is part of that.
To learn more about how a
root canal
can restore your strong and healthy smile in no time, call Bloor West Smiles Dental at 647-691-8363, or
contact us here
.