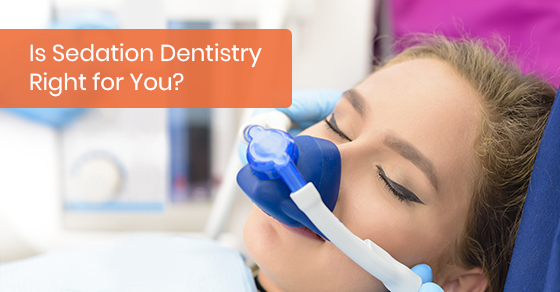 Is Sedation Dentistry Right for You?
Even from a young age, many of us took the threat of tooth decay seriously, especially if it took a cavity to learn our lesson. This experience is probably the most effective way to get anyone to brush their teeth before bed.
It works because it was always followed by stories about decayed and rotting teeth that needed to be pulled out and just how painful that would be. Unfortunately, these threats have instilled a fear of going to the dentist that carries even well into adulthood.
Today, dentists work hard to dispel these childhood fears because they recognize that these impact the quality of dental care that patients receive and their long-term oral health. When a person cannot conquer their fear of the dentist, they often neglect their oral health. Regular brushing and flossing aren't enough if you avoid regular check-ups altogether. One of the best ways dentists are dispelling this common fear is with sedation dentistry.
What is sedation dentistry?
A long-standing fear of the dentist or anxiety shouldn't prevent anyone from getting the best dental care possible and preserving their long-term oral health. Sedation dentistry was developed to eliminate any stress and reflexes that cause sudden movements and disrupt your dental procedure.
Sedation dentistry involves administering a drug that helps you relax or even ease into a comfortable, deep sleep. It allows your dentist to work smoothly and ensure the success of any dental procedure, particularly those that are invasive or challenging to complete when a patient feels anxious at the sight of needles and various instruments, as well as the perceived pain.
Combined with a local or general anesthetic for numbing a tooth extraction or dental surgery site, not only won't you feel anything, but your facial muscles and jaw will be visibly more relaxed to allow your dentist to complete the procedure.
Types of sedation dentistry: which is best for me?
There's more than one way to ease stressed and anxious patients into a dental procedure they need. Based on the nature of the treatment and your anxiety level, your dentist may recommend sedation dentistry.
Once all the steps and results of a procedure are explained, your dentist may recommend laughing gas, a fast-acting oral sedative, or general anesthesia to ease your worries.
1. Nitrous Oxide
Known as laughing gas, this type of sedation dentistry is often administered to get patients through fast, minimally invasive procedures.
Nitrous oxide is fast-acting; patients feel relaxed right away, to the point of losing interest in factors that add to their anxiety, such as the sight of needles and dental instruments. And because it wears off quickly, you won't feel loopy or sleepy after the procedure, allowing you to resume your typical day.
2. Oral Sedatives
For when the effects of laughing gas aren't enough to last throughout your entire procedure, a dentist may prescribe a sedative you can take instead. Take a diazepam pill an hour before your appointment to help you relax in time for the procedure. Once it takes effect, you may feel sleepy and noticeably less anxious, which allows your dentist to work smoothly and precisely.
Oral sedatives require a prescription and specific dosage, which your dentist will determine beforehand to ensure maximum efficacy and comfort. The effects may take a while to wear off, so you might still feel sleepy or loopy, and require assistance getting home after the appointment.
3. Intravenous (IV) Dental Sedation - Moderate and Deep
IV sedation typically involves general anesthesia, which puts a patient in deep sleep or makes them less conscious — and anxious — of their surroundings. This sedation dentistry technique keeps a patient completely still throughout the procedure and their mouth open for longer. This helps the dentist because there is no risk of sudden movements that can cause injuries and errors.
IV moderate sedations are administered via an injection and used for shorter treatments, whereas deep sedation is administered through medication and used for longer procedures.
Keep in mind that "going under" requires preparations, such as limiting food and drink several hours before the procedure and avoiding certain medications to prevent side effects and reactions.
4. Local anesthetic
In less invasive and shorter procedures, a local anesthetic will be administered. This will only numb the mouth, or even the specific treatment area, so patients won't feel pain, but remain conscious. A local anesthetic is typically delivered via needle injection along the gum line. Since this still involves contact with something that many people fear, it's only recommended for patients with little to no anxiety but can't tolerate pain.
Do I need sedation dentistry?
Are you due for a cavity treatment or filling? Or perhaps you balked at the thought of a root canal or tooth extraction. Sedation dentistry has helped countless patients restore their oral health and manage anxiety surrounding even the most invasive and complex dental procedures.
From treating patients with general anxiety or specific anxieties associated with dental care, sensitive oral nerves, inability to keep their mouths open for extended periods, and resistance to local anesthetics, sedation dentistry can be the difference between strong and healthy teeth and severe dental problems later in life.
No matter the procedure, sedation dentistry can help you overcome any anxiety preventing you from seeking treatment. It makes even the most intimidating of dental procedures painless and worry-free, so your teeth and gums are restored to optimal health right away, and you can slowly overcome a lifelong fear of the dentist through regular visits from here on out.
To learn more about whether sedation dentistry is right for you, call Bloor West Smiles at 647-691-8363, or contact us here.