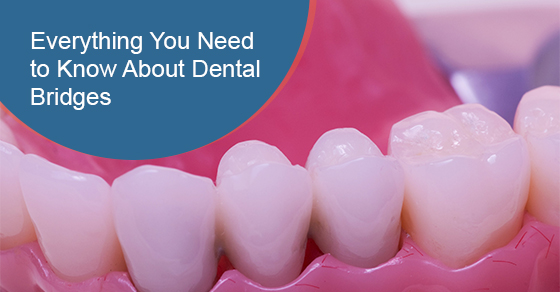 Everything You Need to Know About Dental Bridges
Feeling good about your smile makes you feel good about yourself. For those of us with missing teeth, this is problematic. It can be embarrassing to smile. Missing a tooth may even impact the way you chew or speak. Fortunately, restorative dental care in Toronto can help repair these gaps with dental bridges.
At Bloor West Smiles, we understand the importance of a full smile, and we offer a variety of restorative dental care options in Toronto. One of the many services we offer is dental bridges, which help fill the gaps caused by missing teeth.
Here, we'll talk about dental bridges, the application process, what they are, how they work, and how to care for them.
What is a dental bridge?
A dental bridge is a porcelain, ceramic, or metal prosthetic tooth, which fills the gap caused by a missing tooth. The bridge is held in place by attaching to the teeth on either side of the gap. This connection, like a bridge, coined the name for the process.
As far as restorative dental care goes, this is one of the less invasive procedures to undergo if you want to fill a gap without surgery. Rather than implanting a prosthetic directly into your gum and jaw, the bridge causes minimal pain and discomfort, and the healing process is quite quick.
Types of Dental Bridges
The bridge described above is a standard dental bridge. There are also:
Implant bridges. Rather than attaching the bridge to your surrounding teeth, an implant is used to secure the bridge to your jaw. This might be necessary if more than one tooth is missing, or if surrounding teeth are unable to support the bridge for some reason.
Maryland bridges. This style of bridge work attaches an artificial tooth to the back of a nearby tooth. This method may be used if the bridge is needed at the front of your mouth in the visible smile zone.
Cantilever bridges. If only being connected to one tooth, rather than two surrounding teeth, a cantilever may be used to connect the bridge.
Whatever method you choose, you can be sure that Bloor West Smiles will take great care to ensure your bridge is properly and securely attached.
Why get a dental bridge?
While you may be inclined to ignore a missing tooth, particularly if it is somewhere unnoticeable, not addressing a gap could lead to problems. Your teeth are designed in such a way that if you move one, the rest are sure to follow.
A missing tooth can cause mouth and gum pain as teeth begin to shift. You may also notice a difference in your face shape. Our teeth support our lips, and when a tooth is missing, it can cause our lips to droop.
Depending on where your missing tooth is located, you might notice pain when you chew, as the teeth surrounding the gap land awkwardly on hard foods.
There are many reasons people seek restorative dental care in Toronto, including:
To restore a smile
Improve speech
Improve chewing
Relieve pain caused by an uneven bite
Reduce early aging caused by sagging skin and lips
Improve self-confidence
Dental bridges are very common procedures, and you shouldn't need more than a day off from work for your recovery. However, you may require more than one appointment if the manufacturing of your permanent bridge is done off-site, and you need to wait for it to arrive.
Your mouth may be very tender at first, but this feeling will abate quickly, leaving you with a full and vibrant smile.
The Dental Bridge Procedure
At Bloor West Smiles, we like to keep our clients informed about how each procedure works. This helps minimize anxiety, and also lets you plan your day accordingly.
During a typical dental bridge procedure, your dentist will perform a few steps, including:
Cleaning teeth surrounding the gap

Applying local anesthetic to relieve pain

Shaping surrounding teeth so the crown can be placed

Taking a tooth impression

Placing a temporary bridge while the custom bridge is manufactured

Fitting a permanent bridge

Cementing a bridge if needed
Your dentist may have you come back a few times following the application of your bridge in order to check your bite. If your bridge isn't sitting properly against your other teeth, alterations may need to be made to even things out.
Once your new permanent bridge is in place, you may feel a little strange. Biting, chewing, and even speaking might seem difficult. Don't worry, though, over time you will get used to your bridge, and eventually you'll forget it's there.
Caring for Your New Smile
Having a bridge means more than just adjusting to chewing and smiling; you'll also need to adjust your oral hygiene habits.
Your dentist will give you instructions on care, and may specify a timeline to continue these new care instructions. Not only will these hygiene instructions help ensure your bridge is cleaned properly, but they will also promote longevity. Just as you don't want to underbrush, you don't want to overbrush and scratch or damage the bridge.
Some common bridge care instructions are:
Purchasing special soft-bristled brush and a proxabrush for cleaning under bridge
Twice-daily brushing and flossing with a fluoride-based toothpaste
Rinse with antiseptic mouthwash
Schedule follow-up visits with the dentist
You may also be instructed to change your eating habits, including switching to softer foods and high-fiber fruits and vegetables. You shouldn't eat hard, crunchy, or sticky foods with your bridge.
Contact Bloor West Smiles for More Details on Restorative Dental Care in Toronto
If you live in Toronto and are interested in learning more about restorative dental care and dental bridges, then Bloor West Smiles wants to hear from you.
Our team of experienced dentists work closely with our patients to develop customized restorative dental strategies. It's important to us that our clients leave our office feeling more comfortable and confident than before. We invite you to contact us today by calling 1-416-766-1407!