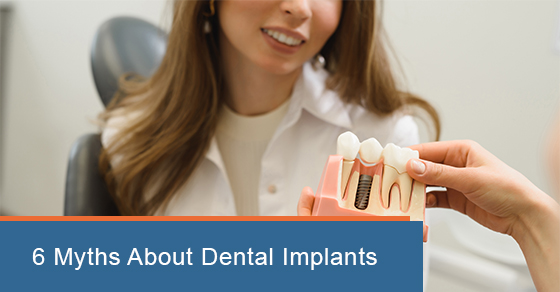 6 Myths About Dental Implants
Dental implants are used to replace missing teeth. They are normally made from a combination of titanium post and dental crown. Crowns can be made of porcelain, resin, or ceramic. The post is implanted in your jaw bone and then left to heal. Once fused, it is topped with an abutment to connect your crown to the post. The crown is the final step, leaving your mouth looking as though you'd never been missing a tooth at all.
At Bloor West Smiles, we serve patients across Toronto for a variety of dental needs, including dental implants. As a leading dental practice in the GTA, we often get questions about our dental implant process. Unfortunately, one of the biggest issues facing this service is misinformation. There are a lot of inaccuracies floating around about implants. Here, we'll clear up the top 6 myths that we often hear at the clinic.
1. Only senior citizens get dental implants
The idea that only seniors need dentures or dental implants is simply untrue. While the majority of dental implants occur in patients 50 and older, there are many young Canadians who require an implant.
Tooth loss occurs for many reasons, including:
Age
Illness
Injury
Genetics
Diet
Thus, anybody with healthy gums and jaw bones can be a candidate for a dental implant. Don't worry about age, so much as your overall oral health.
2. The dental implant procedure is painful
While there is tenderness after implantation as your jaw and gums heal, the procedure itself isn't painful. After using anesthesia on the surgical site, your dentist makes the hole for the post using a drill. This sounds worse than it feels. In fact, your jaw bone has no nerves, so the drilling isn't painful.
During the procedure, patients will feel pressure as drilling and implantation occurs. Following your procedure, you might be in some discomfort for about a week. Your dentist will likely suggest over-the-counter pain medication to manage pain. The fusing of the bone to your post takes between 4-6 months. Following this, the final step takes place. Adding the cap to your implant is not painful and usually requires no anesthetic.
Your dentist will work with you ahead of your appointment to discuss things like:
Pain tolerance
Experience with anesthesia
Previous dental work
Together, you can create a plan that feels comfortable and reassures you of a pain-free procedure and recovery.
3. Dental implants are uncommon
Dental implants are not an uncommon treatment. According to the American Academy of Implant Dentistry, approximately 3 million people have a dental implant. This number grows by around 500,000 people each year.
If you are missing teeth and worry about the effect it has on your appearance, bite, or chewing, then implants can help. Bloor West Smiles specializes in dental implants, and has years of experience perfecting patient smiles. You can rest assured that should you choose dental implants, you aren't alone in your decision, and our dentists have performed the procedure many times before.
4. You need perfect teeth to qualify for dental implants
Dental implants are for anyone who needs them. They are not designated to those with perfect teeth. In fact, most people who get dental implants have a few oral imperfections, which is why there is a need for an implant in the first place.
To get a dental implant, most patients simply require a healthy jaw bone, gums, and surrounding teeth. During your initial consultation, your dentist will determine if you are a good candidate for the procedure. While not everybody is a good candidate, most Canadians should have no trouble being approved for a dental implant.
5. Dental implants are too expensive
Dental implants can cost between $900 to $3,000 CAD, depending on complications, implant material, and your dentist. You may qualify for partial coverage through your provincial healthcare, and partial or full coverage through additional dental insurance.
If you're worried about the expense of dental implants, speak to your dentist. At Bloor West Smiles, we work with patients to ensure each procedure is affordable for you. Many families choose to use a payment plan to complete surgeries not covered by dental insurance.
6. Dental implants feel and look fake
One of the biggest concerns we hear from patients is that dental implants will feel and look fake. While there are many denture products that are very obviously dentures, dental implants tend to look like natural teeth. The way the post is implanted directly in your jaw bone leaves no sign that the tooth isn't naturally yours.
The key to a natural-looking implant is to carefully match the colour and shape to your existing teeth. This helps the new tooth blend into your mouth. While the allure of a new shiny white tooth is strong for many Canadians, you don't want one intensely bright tooth while the rest are a natural off-white shade.
Eating with a dental implant may feel a bit strange at first. This is true of any dental procedure. Even a filling can feel different at first bite. Over time, however, you get used to your implant. Unlike full removable dentures, which leave your mouth, your implant stays put. This makes it quicker and easier to get used to the new addition to your mouth.
Contact Bloor West Smiles
Dental implants are used as a preventative device to maintain bite shape, reduce tooth shifting, and support lips and face structure. They are also used as an aesthetic tool to provide a full, healthy smile where teeth were once missing.
Additionally, Bloor West Smiles offers services in:
Teeth cleaning
Root canals
Wisdom teeth removal
Senior dental care
Restorative dental care
Cosmetic dentistry
General dentistry
Children's dentistry
Invisalign
Orthodontics
Bloor West Smiles is proud to offer dental implant services to families across Toronto. If you live in the Greater Toronto Area and need dental services, we invite you to call us at 647-371-1407. You can also request an appointment online through our simple contact form.