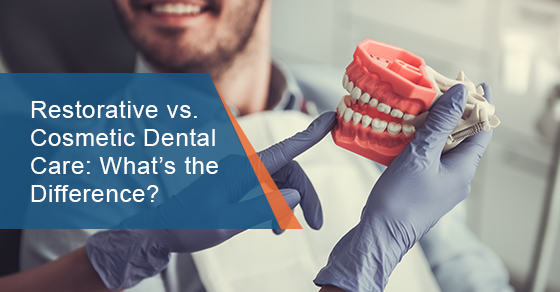 Restorative vs. Cosmetic Dental Care: What's the Difference?
The way your smile looks and the way your teeth function are important for different reasons. One falls under the category of cosmetic dentistry, while the other is part of restorative dentistry. Some dentistry fits both of these categories, like certain types of braces, which ensure your bite sits correctly but also straighten your smile.
At Bloor West Smiles Dental, we provide our patients with both types of procedures because we understand that every mouth is unique. Understanding the difference between cosmetic and restorative dental care in Toronto can be tricky. Here, we'll break down each type of dentistry so you can better understand them both. This is important, as many insurance companies will help with restorative, but not cosmetic procedures.
Here's what you need to know about restorative and cosmetic dentistry.
Cosmetic Dentistry in Toronto
Cosmetic dentistry is all about aesthetics. While some cosmetic procedures may improve the function of your teeth, they are mainly focused on appearance. Cosmetic procedures usually don't fix an issue that could impede speech or chewing, but rather the appearance of the tooth.
Common cosmetic procedures include: 
Fixing Chipped Teeth
A chipped tooth can be repaired using a process called bonding. The bonding putty is mixed to resemble the colour and texture of your current tooth. Your dentist uses the putty to fill in the chip and then files it smooth so you can't tell the chip was ever there. Bonding is also used for other aesthetic fixes, including covering old metal fillings, building up small teeth, and fitting small cavities.
Whitening Discoloured Teeth
The colour of your teeth has a big impact on your pictures. While it's natural for teeth to discolour with age, and depending on your lifestyle and eating habits, professional whitening can remove stains. Following teeth whitening, your dentist may recommend that you steer clear of red wine, coffee, and cigarettes.
Reshaping Teeth
If one tooth is noticeably different, dentists sometimes get requests to reshape it. Depending on the amount of work needed, a tooth can be contoured with a laser treatment. Contouring teeth requires a healthy set of teeth and gums. Trying to reshape a damaged tooth could result in further damage.
Covering Teeth With Synthetic Caps
Veneers are commonly used to cover crooked, misshapen, and discoloured teeth. Veneers can close gaps and create a whole new smile without the need for braces or other long-term corrective treatments. Veneers are synthetic coverings that go over your natural teeth after the teeth are filed down. A permanent adhesive keeps the veneers in place. You can eat, talk, and smile normally with them.
As you can see, all these procedures focus primarily on improving the look of the teeth and smile. You might be a good candidate for these procedures if you have healthy teeth and gums, don't mind paying out of pocket, and are looking to improve your smile quickly.
Restorative Dental Care in Toronto
Restorative dentistry deals with procedures performed to increase your oral health and the function of your teeth. Any issue that may lead to further damage, hinders talking or chewing or causes pain or discomfort would be considered restorative dental work.
Unlike cosmetic dentistry, restorative dental care doesn't focus on the way your teeth look. It provides relief, reinforces the strength of your bite, and even aligns your jaw. Some of the most common types of restorative dentistry include: 
Fillings
Fillings are one of the most common forms of restorative dentistry. When a cavity forms in your tooth due to deterioration, plaque, and acid, a filling fills the hole in the tooth to protect it. Fillings relieve tooth pain caused by cavities, protect teeth from further decay, and reduce the risk of infection in the root or gums. Fillings are a simple procedure requiring freezing, but no anesthetic. Most people return to work the same day.
Bridges
Bridges replace missing teeth by attaching to a healthy tooth next to the site of the missing tooth. Bridges can replace one or more than one tooth in the same location. Bridges permanently restore your smile and do not need to be removed at night or when you eat. They look and work just like your real teeth.
Implants
Another permanent solution to missing teeth is dental implants. Implants may be used to replace a missing tooth in healthy gums and jawbone. A hole is drilled into the jawbone and a post is screwed into place. A cap is set on the post to look and feel like your natural tooth. Like bridges, implants are not removed to sleep or eat. However, they are more costly than bridges and do require more healing time.
Jawbone Grafting
Bone grafting is a surgical procedure used to restore missing bone in your jawbone where it has deteriorated due to injury, disease, or infection. The bone can be synthetic or natural bone taken from somewhere else in your body. The bone is fused in the spot where the gap in your jawbone is. Jawbone grafting might be accompanied by an implant if there is a missing tooth above the healed bone.
Restorative dental care in Toronto is here to ensure your smile feels and functions at its best. At Bloor West Smiles Dental, we work hard to ensure each patient receives all the restorative work they need before any cosmetic procedures are applied. Healthy teeth and gums are essential to a beautiful and functional smile.
Contact Bloor West Smiles Dental Today
Interested in learning more about cosmetic and restorative dental care in Toronto? Bloor West Smiles Dental can help. Our experienced dentists are always happy to hear from new and returning patients. It's important to us to be transparent with patients regarding all procedures.
Whether you want to fill a cavity, replace a missing tooth, or whiten your smile, we are here for you. Contact Bloor West Smiles Dental today to learn more. Call 1-647-371-1407 or visit us online to get in touch.