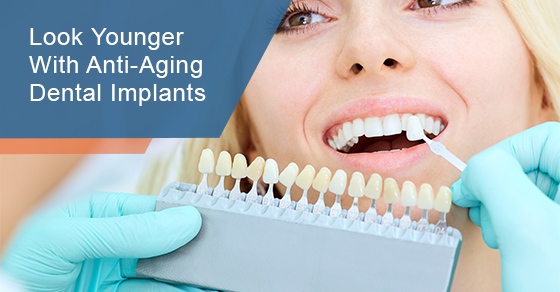 Look Younger With Anti-aging Dental Implants
It's no secret that missing teeth can make people self-conscious about their smile, but did you know that it can also make you look older? Teeth play a very important role in maintaining facial structure, and when they fall out, the face loses support, making it look older.
The face is aged by the sun, pollutants, and stress. If you lose a tooth, you may see wrinkles around your lips within twelve months. Dental implants can reverse the ageing caused by missing teeth.
Dental implants replace missing teeth with artificial ones that look and function just like real teeth. They are usually made of a titanium post and a crown in either porcelain, resin or ceramic. While there are other options for missing teeth, such as dentures or bridges, they don't provide the anti-ageing results dental implants do.
Below are three common signs of ageing. Read on to see how dental implants reverse the ageing side effects of missing teeth.
Loose Skin, Fine Lines and Wrinkles
Individuals with missing teeth may see sagging or drooping facial skin. The bone in the region around the missing tooth is no longer stimulated by normal chewing and shrinks instantly.
Chewing is like exercise for the jawbone and muscles. Without exercise, the bone around the missing tooth will shrink. It can spread to the bone under healthy teeth. The remaining teeth will tilt towards a gap and fall out.
You probably won't notice these changes right away if you look in the mirror every day as the changes to the skin are gradual. However, tooth loss can age you ten years or more as the skin around your jaw and chin sags and cheeks become sunken. Skin sagging is noticeable within the first year of missing a tooth.
Adopting a Soft Food Diet
Take one look at a senior with missing teeth or a newborn, and you can be quickly reminded that fewer teeth affect your dietary options. Missing teeth means that your jaw must work extra hard to break down food. The extra work can wear your jaw down quickly and create issues like TMJ disorder (Temporomandibular Joint). For this reason, many people with missing teeth opt for a soft food diet. Eating a soft food diet for an extended period makes the jaw weaker and more prone to fractures.
Proper intake of vitamins and minerals is also an important part of keeping us young that can't be overlooked. Adopting a soft food diet to contend with missing teeth usually results in nutritional deficiencies.
Weak and malnourished facial muscles from missing teeth can cause premature ageing and changes in speech that negatively impact your social life. Dental implants provide a fixed bite that chews like natural teeth without adding pressure on your gums. This means you won't have to limit your food choices to soft foods like pudding or soups.
Excess Wear and Tear of Teeth
As strong and resilient as they are, even teeth begin to show signs of ageing as we get older. Our teeth experience excess wear and tear daily, from crunchy foods to your steaming coffee.
Stains, chips, and cracks contribute to an older-looking smile and, consequently, an aged appearance. With your smile being one of the most memorable things people see when they meet you, people may think you are older if you have older-looking teeth.
If you're missing teeth because of wear and tear, you will also be at greater risk for periodontal disease. Bacteria will collect in empty gum pockets, negatively affecting oral health. If it's not addressed, you may lose more teeth making you look even older.
Dental implants are often the best option available for improving the overall look of worn-out teeth. In cases where no enamel is left on the teeth, it is impossible to remove stains or discolouration. The crowns on the implants are made from stain-resistant materials and can even be shade-matched to your natural tooth colour. Dental implants can also be painlessly replaced should they become chipped or cracked.
How Dental Implants Reverse Ageing
Now that you've seen how missing teeth can make you look older, here's how dental implants can reverse premature ageing.
Dental implants make you look younger by supporting the skin around the cheek and jaw. The implant post is surgically attached to the jawbone and allowed to heal. Once the implant has fused to your jaw, a natural-looking crown is added. This integration process allows the implant to stimulate the bone like natural teeth do, halting bone loss and reviving facial structure. Sunken skin and fine lines or wrinkles around the mouth will be filled in by providing the same structural support teeth do.
Many people who are missing teeth experience "facial collapse." This is when your jawbone shrinks, and your face looks shorter. Implants will stop it. Our team can talk to you about bone grafting if you have significant bone loss.
Other teeth replacement measures like dentures or bridges do not offer the same support and are less convenient as they can fall or shift out of place. Dentures often don't fit correctly because the deterioration of the jawbone hasn't stopped.
Dental implants offer a permanent solution to missing teeth.
Learn More About Dental Implants at Bloor West Smile
Why wait if you're thinking about improving your smile and looking younger? At Bloor West Smiles, we know everyone wants to experience a beautiful smile as quickly as possible. Our dedicated staff can provide helpful information on dental implants, such as how you can have a new smile in under 24 hours!
For more information about dental implants at Bloor West Smiles, call 647-371-1408 or contact us here.